Investigator says big CIA prisons unlikely
(AP)
Updated: 2005-11-26 11:10
The head of a European investigation into alleged secret CIA prisons in Eastern Europe said Friday it was unlikely that there were large clandestine detention centers in the region.
Dick Marty, the Swiss senator heading the investigation on behalf of the Council of Europe, said he did not believe a prison like the U.S. base in Guantanamo Bay, Cuba, was possible in the region.
"But it is possible that there were detainees that stayed 10, 15 or 30 days," Marty told reporters, without referring to any country. "We do not have the full picture."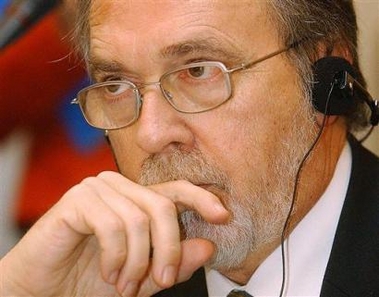 Swiss lawmaker Dick Marty looks on during a meeting of The Parliamentary Assembly of the Council of Europe Friday Nov. 25 2005 in Bucharest Romania to discuss issues including the alleged secret CIA prisons in Eastern Europe. [AP]

Marty was in Romania for a meeting of the Parliamentary Assembly of the Council of Europe.

The council's secretary general, Terry Davis, said he has written to its member nations asking them if they have laws to prevent the transportation of prisoners and secret prisons. The countries have until Feb. 21 to respond.

The council, Europe's main human rights watchdog, began investigations after the Washington Post and Human Rights Watch published reports about CIA planes transporting suspected terrorist through European countries and raised the possibility that the CIA had set up secret detention facilities in Eastern Europe.

Human Rights Watch said flights stopped at the Romanian air base of Mihail Kogalniceanu and Poland's Szczytno-Szymany airport, basing its information on flight logs of suspected CIA aircraft from 2001 to 2004.

Romanian leaders and the Pentagon have denied that the Mihail Kogalniceanu base ever hosted a covert detention center, and the Romanians insist the United States never used it as a transit point for al-Qaida captives. Poland's prime minister said the reports were worth investigating.

The CIA has refused to comment on the European investigation.

Marty has asked the Brussels, Belgium-based Eurocontrol air safety organization to provide details of 31 suspected aircraft that landed in Europe and, according to Human Rights Watch, had direct or indirect links to the CIA.

The Dutch government confirmed Friday that a plane landed at Amsterdam's airport last week belonging to Path Corp., a company previously linked to the CIA.

Also Friday, the Portuguese government said it was consulting with the U.S. government after Diario de Noticias reported Friday that 34 planes that landed in Portugal over the past three years were suspected of involvement in secret CIA operations.

Spanish authorities have investigated at least 10 stopovers on the Mediterranean island of Mallorca by private planes described in Spanish media reports as being operated for the CIA, and a smaller number of similar stopovers in the Canary Islands.