Dam to withstand any attack, designer says
By Xiao Cao (China Daily)
Updated: 2005-11-26 05:34
Military attacks, including atomic-bomb explosions, and natural disasters, such as earthquakes, have been considered in the design and construction of the Three Gorges Dam Project, officials said.
Conventional weapons, even heavy calibre bombs, can damage only the auxiliary facilities of the project, Wei Tingzheng, head of the project's designing team, said during an interview with China Central Television (CCTV) on Thursday.
"We did a lot of research before deciding on the form of the dam by doing anti-explosion experiments and finally chose the current one, which has a triangle cross section," Wei said.
The width of the dam is equal to its height, which helps consolidate its capacity to withstand an explosion, he said.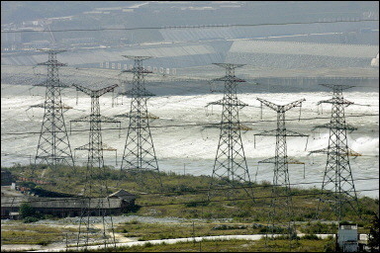 Power grids along the Yangtze River at the Three Gorges dam in China. [AFP/file]

The gigantic Three Gorges Dam Project, the world's largest in hydroelectric production, has an estimated price tag of 180 billion yuan (US$21.7 billion).

Launched in 1993, the Three Gorges Dam Project, including a 185-metre-high dam and 26 generators on both banks of the Yangtze River, is being built in three phases on its middle reaches.

According to a construction schedule, the project will be able to generate 84.7 billion kilowatt-hours of electrical power annually when it is expected to be finished in 2008.

"We also took into account the possibility that the dam would be subjected to possible atomic bombs," whether they explode in the air, in the water or directly target the dam itself, Wei said.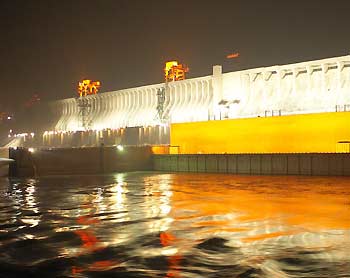 The Three Gorges dam. [newsphoto]

Direct targeting at the dam, intended to cause its collapse and result in flooding into nearby cities, is the worst scenario, the designer said.

But Wei added, major cities such as Shanghai and Wuhan, capital of Central China's Hubei Province, will not suffer to any great degree as flood-relief channels have been built up.

Referring to the possible impact of earthquakes on the project, Wei said such worries were minimal because of the dam's location.

"The dam's base is set on a granite layer, where no one earthquake exceeding 4-magnitude has ever occurred," he said.

Various doubts and objections concerning alleged overspending and environmental damage have assailed the project from the day it was proposed and continued through planning, design and construction.

About 1.13 million local people were targeted for relocation from their ancestral habitats in the water diversion project area. Pu Haiqing, director of the Three Gorges Project Construction Committee under the State Council, told CCTV that more than 1.06 million residents in the Three Gorges Dam area have been successfully relocated in the past two decades.

"Most of the resettled people are satisfied with their new lives, enjoying better living conditions," Pu said.

As of the end of August, the central government had earmarked nearly 49 billion yuan (US$6 billion) to relocate residents, remove enterprises, build houses and reconfigure infrastructure facilities, he said.

(China Daily 11/26/2005 page2)