Harbin ready to resume water supply
By Li Fangchao (China Daily)
Updated: 2005-11-26 05:29
HARBIN: This capital of Northeast China's Heilongjiang Province is racing against time to make sure drinking water will be safe once the supply is resumed.
Workers were installing new filtering material at the city's water plants on Friday. They were replacing anthracite with activated carbon, which can absorb more pollutants. More than 80 People's Liberation Army soldiers joined the work at the No 3 plant, which purifies 80 per cent of the city's drinking water.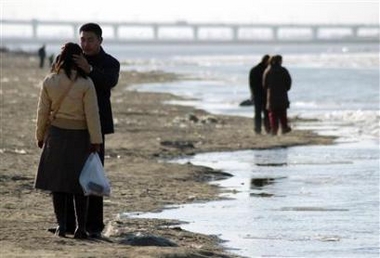 Residents stand on the bank of Songhua River in Harbin, Northeast China's Heilongjiang province, November 25, 2005. [newsphoto]

A 80-kilometre swathe of contaminated water in the Songhua River, which supplies water to the city, was flowing through and expected to leave the urban area before Saturday noon.

The slick, caused by a chemical plant blast on the upper reaches of the river on November 13, forced Harbin to suspend its water supply for four days starting from midnight on Tuesday.

The city now has more than 1,200 tons of active carbon, an amount considered "basically sufficient," the government said on its website. More active carbons will arrive on Saturday from Hebei and Shanxi provinces and Ningxia Hui Autonomous Region, it added.

Wang Minghe, deputy director of the water plant, told the local media that "we are ready to serve once the contaminated water passes."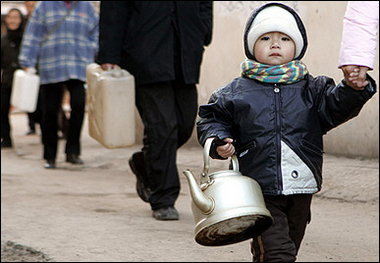 Queuing for water: A young boy carries an empty water container as residents queue for water in the northern Chinese city of Harbin. [AFP]

Also, a work group of the State Council, China's cabinet, left Beijing on Friday for Harbin, a city of 3.8 million people, to investigate the incident.

The State Environmental Protection Administration (SEPA) said on Thursday that a chemical plant of the Jilin Petrochemical Company, under the China National Petroleum Corp, (CNPC) was responsible for the toxic spill.