China evacuates villages near polluted river
(Reuters)
Updated: 2005-11-25 14:57
Hundreds of villagers have been evacuated from their homes along a river in northeast China after an explosion at a petrochemical plant upstream dumped 100 tons of toxic chemicals in the water, local media said on Friday.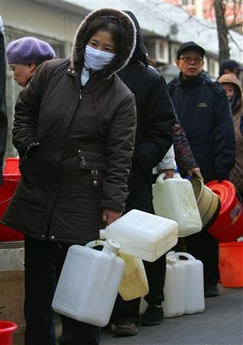 Residents queue to receive water in Harbin, the capital of northeastern Heilongjiang province, November 25, 2005. [Reuters]
Premier Wen Jiabao has issued instructions demanding safe drinking water be ensured.
More than 300 residents of Niujiadian village and Gou island in Harbin, capital of Heilongjiang province, were evacuated by Thursday before an 80-km (50-mile) slick of water contaminated by benzene and other chemicals passed by on the Songhua river, the local Life Daily said.
Two reservoirs upstream discharged an unusually huge amount of water into the river to dilute the toxic spill, the Web site of the Harbin city government said.
Harbin, which draws its drinking water from the river, has stored 7,150 tons of safe water and asked neighboring cities to stop trucking in bottled water, the Web site said.
About 1,000 soldiers and paramilitary police have been deployed at several water plants to install filters that can more effectively absorb nitrobenzene, the main pollutant, the government Web site said.
James city, downstream from Harbin, has no plans to cut off water supplies because it uses underground water, the official Xinhua news agency reported.
Reactions ranged from stoic acceptance to anxiety in Harbin, home to nine million people.
There were few signs of panic in the city. Most residents continued to work and shops and restaurants remained open despite water supply being cut off since Tuesday.
About 10,000 policemen patrolled the city's streets, the Beijing News said.
Local hospitals had stockpiled antidotes to benzene-related poisoning, Xinhua said.
Local officials warned residents to be on the lookout for symptoms of benzene poisoning, which can cause anemia, other blood disorders and kidney and liver damage.
Heilongjiang Governor Zhang Zuoji ordered hospitals to brace for possible cases of poisoning and promised to drink the first glass of water from city taps once the pollution passes.
But Harbin's mayor, Shi Zhongxin, said the water would at first be unsuitable for drinking. Water supplies could resume partially as early as Sunday, Xinhua has said.
The November 13 explosion at Jilin Petrochemical Co. in neighboring Jilin province was only a few hundred meters (yards) from the Songhua river. The plant is owned by a subsidiary of China's biggest energy company, China National Petroleum Corp.
But at the time officials there warned only of air and ground contamination, not water pollution. The blast killed five people.
The plant had insisted it was not responsible for the pollution. But the deputy general manager of China National Petroleum Corp. apologized to Harbin residents.
China's State Environmental Protection Administration said on Thursday the plant should be held responsible for the toxic spill. It rejected accusations that local authorities had waited too long before telling residents or Russia about the pollution.
Russia's environmental protection agency said it was worried the pollution might affect drinking water in its Khabarovsk region, which the Songhua enters several hundred km (miles) downstream from Harbin.