100 tons of chemicals flowed into river
(China Daily/chinadaily.com.cn)
Updated: 2005-11-25 05:47
About 100 tons of dangerous chemicals equivalent to 10 tanker-truck loads was spewed into the Songhua River, which supplies water to Harbin, the nation's environment watchdog disclosed yesterday.
Zhang Lijun, vice-minister of the State Environmental Protection Administration (SEPA), told a press conference in Beijing that Jilin Petrochemical Corporation, a subsidiary of China National Petroleum Corporation (CNPC), "should be responsible" for the leak of benzene and its derivatives following an explosion at a chemical plant.
"We will be very clear about who's responsible. It is the chemical plant of the CNPC," Zhang said.
Asked whether the company might face criminal charges or fines, he said that had not been decided.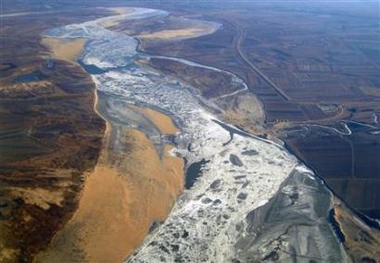 A stretch of potentially lethal polluted river water headed towards one of China's biggest cities on Thursday after an explosion at a petrochemical plant, November 24 2005. [newsphoto]
The plant, on the upper reaches of the river in Jilin Province, earlier denied any connection between the contaminated water and the explosion on November 13, which left a trail of dead fish.
But Jilin Vice-Governor Jiao Zhengzhong, also Party secretary of Jilin city, apologized to the 3.8 million residents of Harbin on Wednesday during a visit there. He brought 71 tons of mineral water with him. "We will work with the Heilongjiang provincial government to quickly investigate the incident," Jiao said.
CNPC also apologized to Heilongjiang people Thursday. Its deputy general manager Zeng Yukang expressed his sincere sympathy and deep apologies to the residents of Heilongjiang Province.
Zeng, who is also director of Daqing Petroleum Administration Bureau, came to Harbin on Wednesday, heading a drilling crew which is to dig 100 deep groundwater wells for universities and college as well as water and heat suppliers in the city.
Zeng also deemed it CNPC's duty to help treat the pollution, according to the city government of Harbin.
Water supply has been suspended in Harbin since Tuesday midnight and the city government is keeping a close watch on an 80-kilometre swathe of polluted water in the Songhua which flowed into the city early yesterday morning.