Xinjiang reports 7th outbreak in 10 days
By Zhao Huanxin (China Daily)
Updated: 2005-11-25 05:47
Northwest China yesterday reported its seventh outbreak of bird flu in less than 10 days as the World Health Organization (WHO) said it would send a team to an eastern Chinese province where a woman was confirmed killed by the infection.
The latest outbreak struck a family farm in Turpan city of Northwest China's Xinjiang Uygur Autonomous Region and killed 11 birds on November 17.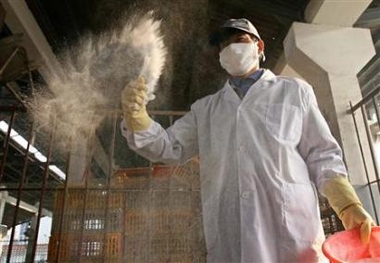 A Chinese worker disinfects a poultry market in Shanghai November 22, 2005. [Reuters]
The deaths were caused by the deadly H5N1 strain of the bird flu virus, the Ministry of Agriculture said yesterday, citing test results from the National Avian Influenza Reference Laboratory.
The seven outbreaks reported since November 15 make Xinjiang the most-afflicted area in the country, experts said.
Three of the outbreaks occurred in or around Urumqi, the regional capital, according to the ministry's website.
The ministry and the local government were handling the latest outbreak in accordance with emergency plans, officials said.
Veterinary workers culled 5,180 poultry within a 3-kilometre radius of the outbreak site in line with standard practice, the ministry said in a statement.