Shrine visit 'pouring salt into open wound'
(Reuters/China Daily)
Updated: 2005-11-24 15:53
Likening Japanese Prime Minister Junichiro Koizumi's visits to a Tokyo war shrine to "pouring salt into an open wound," China's ambassador to Japan on Thursday urged a halt to the pilgrimages in order to thaw frigid Sino-Japanese ties.
Japan's relations with China and South Korea chilled markedly after Koizumi took office in 2001 and began annual visits to the Yasukuni shrine, where 14 Class-A war criminals including wartime prime minister Hideki Tojo are honoured along with war dead.
Koizumi, who says he visits Yasukuni to pray for peace and honour the war dead, last paid his respects there in October.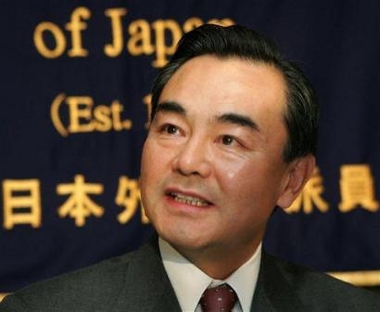 Chinese Ambassador to Japan Wang Yi speaks during a news conference at the Foreign Correspondents' Club of Japan in Tokyo Thursday, Nov. 24, 2005. [AP]

"When it comes to Japan's top leader paying respects at a place where Class-A war criminals are enshrined, this revives the bitter memories of those who suffered during the war," Chinese ambassador Wang Yi told a packed news conference.

"It is like pouring salt into an open wound," he added. "When the top leader does this, the people of China, the biggest victim of the war, find this difficult to overlook."

Beijing wants to see a Japan-China leaders' summit take place, but "political obstacles" must first be overcome, Wang said, speaking in Japanese.

"We don't want a meeting simply for the sake of a meeting or to show the world that we had a summit. We want a meeting that would provide a chance to normalise the abnormal state of relations," he added.

No formal Japan-China leaders' summit has occurred since Koizumi took office, although the prime minister has met Chinese leaders on the sidelines of international gatherings.

Last week, Chinese President Hu Jintao snubbed requests for a chat on the sidelines of a two-day Asia-Pacific Economic Cooperation summit in Busan, South Korea.

Wang dodged a question on whether Beijing was waiting for Koizumi's term to expire next September in hopes ties would get better then, as well as how China viewed Chief Cabinet Secretary Shinzo Abe, a top contender to take over the post.

"It is our hope that Japan-China relations will return to a healthy path as soon as possible. Thank you," was all he would say. Abe favours visits to Yasukuni and is known for talking tough on China.