80-kilometer pollution slick reaches Harbin city
(Xinhua/AFP/China Daily)
Updated: 2005-11-24 15:25
An 80-kilometer-long (48-mile) slick of heavily-contaminated water surged down a river into one of China's biggest cities, leaving four million people without public water services.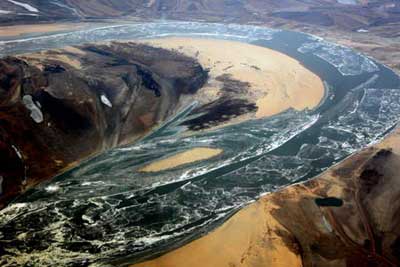 Polluted Songhua River is seen as the State Environment Protection Administration confirmed Wednesday that pollutants containing benzene and nitrobenzene contaminated the river after a chemical-plant blast at the upper reaches in Northeast China. [sina.com]
The slick of the carcinogen benzene hit the outskirts of Harbin, capital of China's northeastern Heilongjiang province, in the early hours of Thursday, the local government said.
The toxic benzene-contaminated water, flowing down from the upper reaches of Songhua River, from which Harbin draws its drinking water, arrived at the local water supply inlet at about 5 a.m..
The contaminated water came after an explosion at a PetroChina factory in neighboring Jilin province, some 380 kilometers up river from Harbin.
The explosion at led to an outpouring of the carcinogen benzene into the 1,897-kilometer-long (1,176-mile) Songhua river, the Environmental Protection Administration (EPA) said Wednesday.
"After the blast at the chemical plant the monitoring station in Jilin found that benzene went into the river and polluted the water," the EPA said in a statement on its website.
"Benzene levels were 108 times above national safety levels."
Zhang Lanying, director of the Environment and Resources Institute of Jilin University, said that benzene which does not dissolve in water is a dangerous substance.
People who drink water with a little benzene can have oral festering. "Massive amounts can lead to the disorder of blood cells; in other words, leukaemia," she said.