China confirms "major" pollution of river
(Reuters)
Updated: 2005-11-23 20:16
China confirmed on Wednesday that an explosion at a petrochemical plant had caused "major pollution" of a river which has led authorities to shut off water supplies in one of its biggest cities for at least four days.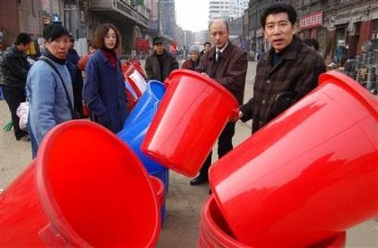 Local citizens buy barrels to store water in Harbin, northeast China's Heilongjiang province, November 22, 2005. [Reuters]
China's State Environmental Protection Administration said that the Songhua River had suffered "major water pollution" after the November 13 explosion at the plant upstream, the Xinhua news agency said.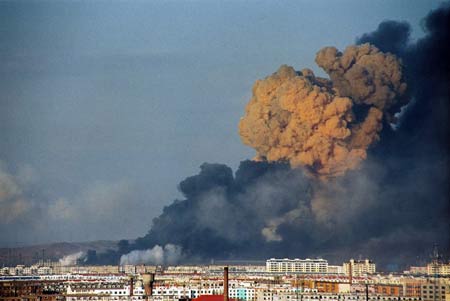 Thick smoke rolls up into the sky after explosions ripple through the Jilin Petroleum and Chemical Company from 2:00 p.m. to 3:00 p.m. Sunday, Northeast China's Jilin Province. There are so far no casualties reported while witness said dozens were hospitalized. [Xinhua]
Taps were turned off in Harbin at midnight on Tuesday after two days of panic buying of bottled water and food in a city where winter temperatures regularly drop below minus 20 Celsius.
The explosion happened in neighboring Jilin province only a few hundred yards from the Songhua River, which supplies water to Harbin, a metropolitan area of nine million people. Five people were killed in the blast.
"Pollution is definite," said a regional water official, who declined to give his name. "It has entered the Songhua River and has affected the banks and lower reaches."
The Beijing Times newspaper said the pollutants in the partly frozen river included benzene, an industrial solvent and component of petrol.
An environmental official quoted by Xinhua said the polluted water was expected to reach the stretch of river where Harbin siphons off its drinking water on Wednesday evening and clear the city by Friday afternoon.
"Several major tributaries join the Songhua River on the downstream of Harbin," the official said. "It will help to lessen the degree of pollution."