Forum urges closer Sino-US relations
By Qin Jize (China Daily)
Updated: 2005-11-15 06:13
China and the United States should expand mutual interests, which will "not only maintain the stability of, but also add strong vigour to, the development of bilateral relations."
Former Vice-Premier Qian Qichen said this at a four-day forum on Sino-US relations which opened in Beijing yesterday.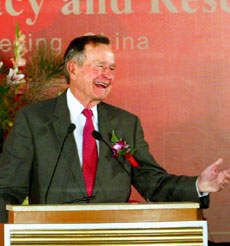 Former US president George H. Bush speaks at the forum. [newsphoto]
He called for more co-operation in areas of common interest such as trade, energy and the fight against bird flu.
He also stressed the need for co-ordination in the development of nuclear power, natural gas and use of cleaner energy.
The forum is being held less than a week before a scheduled visit by US President George W. Bush to China on November 19.
At yesterday's forum, Vice-Foreign Minister Yang Jiechi acknowledged that trade frictions exist but he added: "We should focus on the broad interests of Sino-US economic and trade co-operation, avoid politicizing trade issues, and resolve disputes through consultation."
According to Yang, China is now the US' third-largest trading partner while the United States is China's second-largest trading partner.
Both Qian and Yang believe that China and the United States should properly handle the sensitive Taiwan question.
Qian noted that it is in the interest of both China and the United States to oppose "Taiwan independence" and safeguard peace and stability across the Taiwan Straits.
He said China is deeply concerned about the United States selling advanced weapons to Taiwan and upgrading military ties with the island, as they would only send wrong signals to the "Taiwan independence" forces and is detrimental to stability across the Straits.
General Xiong Guangkai, deputy chief of general staff of the People's Liberation Army, echoed Qian's views.
Taiwan's separatists threaten security in the region, he said.
Qian also reiterated China's policy of peaceful development.
He said that in the United States, there are misunderstandings about a strong China, and even concern that the US interests will be undermined.
He said the major task of the Chinese Government is to improve the living standard of its 1.3 billion people. China is seeking sustainable development under a peaceful international atmosphere.
Former US president George H. Bush, who was the head of the US liaison office in China during 1974 and 1975, told the forum that despite challenges to the relationship, he and his son, the current US president, believe that the Sino-US relationship has been improving remarkably.
"He also feels it is in good shape," he said, echoing George W. Bush's perceptions of bilateral ties in an interview last week.
It was the senior Bush's 14th visit to China since leaving presidency in 1992. The forum, initiated by him, provides a unique opportunity for policymakers, scholars and business leaders from the two countries to exchange ideas and address issues of common interest.
(China Daily 11/15/2005 page2)