'US trade deficit with China to top US$200b'
(AFP/China Daily)
Updated: 2005-11-15 06:53
US Trade Representative Rob Portman said China's trade surplus with the United States was likely to exceed 200 billion dollars this year, roughly 40 billion dollars more than 2004.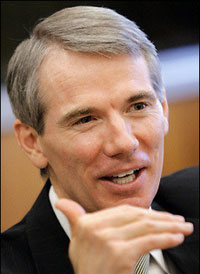 US Trade Representative Rob Portman gestures during ministerial talks at the World Trade Organisation (WTO) headquarters in Geneva. [AFP]

Portman, speaking at a China-US relations forum in Beijing, spoke of the growing US trade deficit as he warned bilateral trade tensions had not evaporated simply because of the textiles deal brokered last week.

"I believe it will be over 200 billion dollars this year," Portman said.

The US trade deficit with China reached 146.3 billion dollars in the first nine months of the year, according to US data.

The United States last year recorded a deficit with China of 162 billion dollars, powerful fuel for US politicians and industry groups who are increasingly worried about the imbalance in trade between the two nations.

For many in the United States, China is guilty of manipulating its currency rate to boost exports, of turning a blind eye to a rampant trade in fake goods, and of shutting out US firms from entering the country's huge domestic markets.

US officials have already signalled the deficit will be on the agenda when US President George W. Bush arrives in Beijing on Saturday for a three-day visit.

Portman warned negative American perceptions about China's trade policies were having an impact on bilateral relations.

Although last week's textile accord had removed one trade dispute, Portman said ongoing issues such as China's lack of protection for intellectual property rights (IPR) would continue to influence how Americans perceive China.

"To date the problem of intellectual property protection is not being solved quickly enough," Portman said.

"What concerns me is the change in the US public attitude towards China since China's WTO accession," he said. China joined the World Trade Organization in 2001 after protracted negotiations.

"Americans today are greatly concerned about China's role in the world economy and in particular whether China is playing by the rules."

Portman said that while US exports to China had grown and could top 40 billion dollars at the end of the year, it would not offset the flood of Chinese exports entering the United States.