UK's Blair to warn of failure at world trade talks
(Reuters)
Updated: 2005-11-14 10:13
British Prime Minister Tony Blair will urge world leaders on Monday to step up their efforts to secure a deal at next month's trade talks and warn that the global economy will suffer if no agreement is reached.
With about a month to go before an expected showdown between global trading powers in Hong Kong, Blair will set out the steps he thinks need to be taken to get an accord to cut farm subsidies and lower tariffs around the world.
"In a modern world there is no security or prosperity at home unless we deal with the global challenges of conflict, terrorism, trade, climate change and poverty," Blair will say in a speech at a banquet for the City of London's Lord Mayor.
"Self interest and mutual interest are inextricably linked. National interests can best be advanced through collective action," he will say.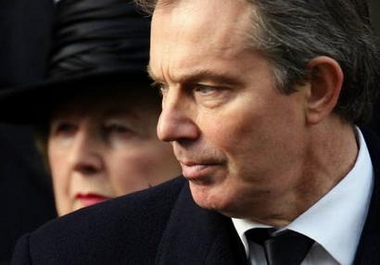 Britain's Prime Minister Tony Blair (R) and former prime minister Margaret Thatcher leave after the Remembrance Sunday Service at the Cenotaph in Whitehall, London November 13, 2005.[Reuters]

The speech reflects the prime minister's frustration at the slow progress of World Trade Organization (WTO) talks.

Trade negotiators from around the world said last week their differences were still too deep to settle on a blueprint for a new WTO round in Hong Kong.

The European Union is resisting pressure to go further in opening up its heavily protected farm market while Brazil and India have been reluctant to spell out how far they can go in cutting industrial tariffs.

One of Blair's main aims during Britain's presidency of the Group of Eight industrialized nations this year is to help lift Africa out of poverty.

He is worried that G8 agreements made earlier in the year to cut debt and double aid to Africa, will be undermined if developing nations are denied greater access to global markets.

In September, Blair vowed to do whatever he could to get trade talks on track if it looked as if December's meeting was heading for a failure.

It looks as if that is exactly what Blair now fears.

"At Gleneagles we showed the world - and the world's poor - that political leaders in rich countries not only care about world poverty, but are capable of acting together to help eliminate it," he will say.

"The challenge now is to extend that principle of cooperation into the multilateral trading system -- and that is what the Doha Development round is about. Sometimes I worry that we lose sight of what is at stake."

Blair will stress that the cost of failure to the world's economy and its security would be high. Britain says developing countries could gain as much as 47 billion dollars from a world trade pact.