Vistas of thoughts
Raymond ZhouChina Daily Updated: 2005-11-12 06:47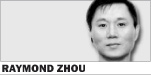 There is a piece of news that may even puzzle Dan Brown.
A 250-year-old novel is making waves in China's publishing world. Of course, it is not just any old tome, but the perennial favourite, "A Dream of Red Mansions (Hong Lou Meng)," written by Cao Xueqin in the Qianlong years (1735-1796) of the Qing Dynasty.
Hong Lou Meng is universally considered to be the pinnacle of Chinese fiction. Enthusiasm in it has never waned over the centuries. The problem, if it can be so called, is more and more people have plunged into the study of the novel, or Redology (hong xue), and dug up findings so minute and preposterous that the public deem them hair-splitters.
The recent storm was started by Liu Xinwu, an eminent author in his own right, who gave a series of lectures on CCTV 10, the education channel. Liu does not belong to any Redology society or club, but he, like some other writers who see Redology as the holy grail of literary enlightenment, has devoted more than a decade to it. His discovery, which is also chronicled in two books, is a plot of political contrivance hidden beneath layers of family connections.
To those who are familiar with the novel, it concerns Qin Keqing, a minor character who was brought into the Jia family as an orphan and later married one of the Jia brothers. She died young and vanished from the book early on. Notable things about her is her possible affair with her father-in-law and her death-bed dream that shed light on the fate of Wang Xifeng, a major character.
Liu, the author, has come to the conclusion that Qin's prototype was a daughter of a deposed prince and the Jias knowingly took her in to bide their time for recovering family fortunes in case that prince gained another chance to take the throne. However, Yuanchun, the eldest daughter of Jia Zheng who married into the palace, sold Qin out and caused her early demise.
Traditional Redologists are not amused. One scholar, Hu Wenbin, said in an interview: "You can play with riddles at home, or even pen books about them. But you should not take them to CCTV."
They emphasize that Hong Lou Meng can be popular but Redology has to be in the hands of a few academics. "Not every reader who loves it can be an expert, and there have to be rules that all researchers have to abide by," they said, referring to Liu's obvious lack of proper credentials.
The way I see it, these are reminders of Chinese-style elitism: How can an amateur gain more fame by selling a cheaper version of serious code-deciphering? How can a mass media organization choose an "impostor" over true-blue scholars?
In doing so, they have blurred the line between news and views. News, whether presented by CCTV or a small local paper, should be factual, period; but views, like Liu's interpretation of the novel, can be personal. It is not uncommon when we hear people demanding "correct" opinions on an event or even a movie. This line of logic, when carried to extremes, would eliminate unorthodox ideas that may open up new vistas for thinking.
That said, Liu's take on the novel indeed borders on a conspiracy theory. But, hey, "Shakespeare in Love" is a delightful restructuring of the bard's romance, based more on figments of imagination than solid scrutinizing of historical records. (He left even fewer clues about his life than Cao Xueqin.)
Whether Liu's research is a novelist's spin-off or academic theorizing is up to each person. You can certainly disagree with him. But, by offering an intriguing way of plot decoding, he has fired up an inquisitive zeal in this greatest of Chinese novels, just as Dan Brown of Da Vinci Code fame has done for religious symbols.
raymondzhou@chinadaily.com.cn
(China Daily 11/12/2005 page4)