China seeks WHO help in testing for bird flu
(AP)
Updated: 2005-11-07 12:53
BEIJING - China said Sunday it had asked for outside help to test three possible cases of bird flu in people, while scientists and government representatives prepared for a strategy session in Geneva amid fears of a possible worldwide flu pandemic among humans.

China said it asked the World Health Organization to help determine whether the bird flu virus caused the death of a 12-year-old girl and infected her 9-year-old brother and a 36-year-old middle school teacher in Wantang, a village in central Hunan province.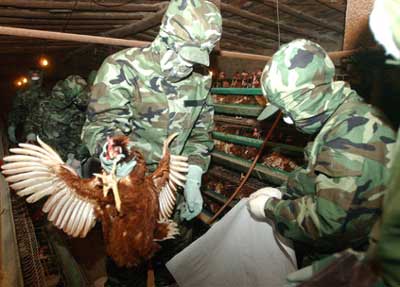 Soldiers from the Liaoning Division of the Chinese People's Armed Police Forces help cull chickens on Saturday in Northeast China's Liaoning Province, which had an outbreak of bird flu in Heishan County. More than 1 million heads of poultry were culled after the outbreak the fourth case reported in China in a month. [Xinhua]
If confirmed, they would be China's first known human cases of the disease, which has killed at least 62 people across Southeast Asia since 2003.
"The possibility of human infection of the highly deadly H5N1 strain of bird flu cannot be ruled out," the official Xinhua News Agency said, citing an unnamed health ministry spokesman.