Chirac vows arrests; four Chinese injured
(AP/China Daily)
Updated: 2005-11-07 07:47
French French President Jacques Chirac on Sunday promised arrests, trials and punishment for those sowing "violence or fear" across France ¡ª as the urban unrest that has triggered attacks on vehicles, nursery schools and other targets reached central Paris.
Youths set ablaze nearly 1,300 vehicles and torched businesses, schools and symbols of French authority, including post offices and provincial police stations, late Saturday and early Sunday.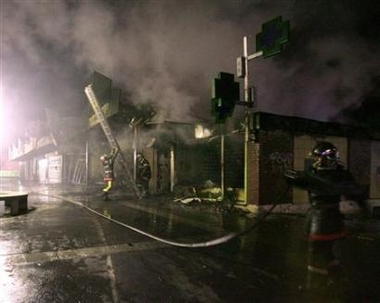 Smoke rises from the burnt out buildings at a commercial centre in Evreux, 96Km (60 miles) west of Paris early November 6, 2005. [Reuters]
Police clashed with rioters south of the capital Sunday night, the 11th consecutive night of unrest. About 10 police were injured, two seriously, in Grigny in the Essonne region, the Interior Ministry said. LCI television reported that shots from a pellet gun were fired.
The violence took another alarming turn Saturday night with attacks in the well-guarded French capital. Police said 35 cars were torched, most on the city's northern and southern edges.
In central Paris, gasoline bombs damaged three cars near Place de la Republique. Residents reported a loud explosion and flames.
"We were very afraid," said Annie Partouche, 55, who watched the cars burning from her apartment window. "We were afraid to leave the building."
Chirac spoke after a security meeting of his top ministers.
"The law must have the last word," Chirac said in his first public address on the violence. Those sowing "violence or fear" will be "arrested, judged and punished."
Prime Minister Dominique de Villepin promised speedy trials for rioters and extra security where it was needed.
Chirac said France was determined to promote "respect for all, justice and equal opportunities." Violence has been concentrated in poor suburbs with large immigrant populations.
"But there is a precondition, a priority, I repeat," he said. "That is the restoring of security and public order."
The French president had faced criticism from opposition politicians for not publicly speaking about France's worst civil unrest in more than a decade. His only previous comments came through a spokesman.
From an outburst of anger in suburban Paris housing projects, the violence has fanned out into a nationwide show of disdain for French authority from youths and minorities, most French-born children of Arab and black Africans angered by years of unequal opportunities.