Air pollution 'will be tackled' by 2008
By Cao Desheng (China Daily)
Updated: 2005-11-07 05:32
The European Union's environment chief yesterday expressed confidence that government measures would effectively tackle Beijing's chronic air pollution in time for the Olympics in 2008.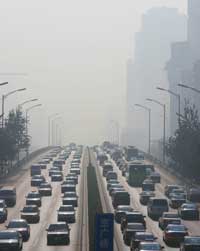 Smog shrouds Beijing November 4, 2005 as the city reported serious air pollution for three consecutive days. The city is taking measures to improve the air quality. [newsphoto]

"I'm sure the atmosphere will be cleaner and the environment will become better in Beijing and even the whole country as the Chinese Government is working out measures to protect the environment, including by developing renewable energy," said EU Environment Commissioner Stavros Dimas in Beijing.

Dimas was speaking at a news conference ahead of a two-day international renewable energy conference, due to open today, jointly organized by the Chinese government and the EU.

"The emerging economy wants to play a leading role in creating the conditions for renewables to thrive," Dimas said.

As a follow-up to the World Sustainable Development Summit in Johannesburg in 2002 and the International Conference on Renewable Energy in June last year, the conference will serve as a forum for representatives of 80 countries and the EU, including numerous ministers.

Participants will also discuss options for increasing renewables' share of the worldwide energy market.

"Developing renewable energy is of greater importance given the price of crude oil on the international market has doubled since last year," Dimas said.

The increased use of renewables helps reduce greenhouse gas emissions and air pollution, which have an impact on both the environment and economic development, he added, before emphasizing that energy efficiency was equally important.

"I would like to stress that the Chinese Government has been aware of the significance of climate change and has collaborated with the EU and others to solve the issue that the globe is facing," Dimas said.

"China has been endeavouring to develop wind power generation," he said, "more and more other renewable energy will be frequently used in the future."