Shanghai No 1 in industrial competitiveness
By Fu Jing (China Daily)
Updated: 2005-11-07 05:30
Shanghai, Tianjin and Guangdong top an updated UN scoresheet on regional industrial competitiveness in the country.
The Chinese capital Beijing ranked fourth with its manufacturing ability accounting for around 60 per cent of China's economic hub, Shanghai.
The report on the survey, conducted by the United Nations Industrial Development Organization (UNIDO), was made exclusively available to China Daily.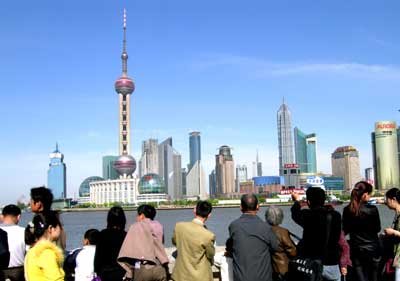 Shanghai tops the UNIDO (United Nations Industrial Development Organization) scoresheet on regional industrial competitiveness in China. [newsphoto/file]
Shanghai was graded 0.903 in competitive industrial performance (CIP) on an index value ranging from zero to one. Beijing scored 0.585 while Tibet was the worst performer, at 0.056.
"To sum up, the eastern regions dominate the top half of the scoreboard, while central and western regions dominate the bottom half," said Sergio M. Miranda-da-Cruz, till recently the UNIDO Representative for China, Mongolia, the Democratic People's Republic of Korea and the Republic of Korea.
Miranda-da-Cruz assessed 31 provinces, municipalities and autonomous regions on the Chinese mainland by considering indicators such as per capita manufacturing value added (MVA), manufacturing exports and share of medium and high-technology industries in MVA.
"This report focuses on the development of western China, and on measures that the central government and regional governments can take to reduce the disparities, which are, in fact, increasing between the coastal areas and the rest of China," said Sergio.
He said expectations that China would outperform the rest of the world in the manufacturing sector within the next few years are realistic but the country also faces challenges.
"For instance, if we can simplify the situation, the two most important concerns in the short term are innovation and quality in the manufacturing sector," said Sergio.
He said the concern on quality was not limited to products but also putting in place effective quality management systems, particularly for products oriented to the domestic market.
He also said China would face increasing pressure to manage eight variables such as allocation of financial, physical and human resources, increasing income inequality, development of human capital, land degradation and the process of urbanization.
Sources at the National Development Reform Commission said that the government used the suggestions as inputs for drafting parts of China's 11th Five-Year Programme (2006-10) for social and economic development.
(China Daily 11/07/2005 page1)