In China, hunt on for Loch Ness monster
(AP)
Updated: 2005-11-06 11:26
LAKE KANASI, China - The moon is barely a crescent in the sky as dusk darkens the milky green surface of Lake Kanasi.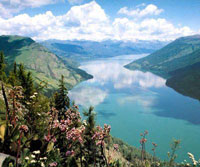 Lake Kanasi in Xinjiang. Some say they spotted lake monsters in the lake. [file]

Four people huddle on the edge of a floating wooden dock, eyes scanning this mountain lake near China's remote northwestern frontier with Central Asia. Small waves lap at their shoes.

In a soft voice, Yuan Guoying recounts his two sightings of the creatures. The first over there, from a cliff, Yuan says. Then again, 19 years later.

From the group comes a squeal as tiny, silver fish dart at hunks of bread they have dropped in.

"Look! There are so many of them!" says one girl. "But where's the lake monster?"

Another 40 minutes pass. A chill breeze kicks up.

Yuan is unfazed.

"We can wait all night," he says. "Let's see if this is our fate."