Hu: China committed to peace, development
(Xinhua)
Updated: 2005-11-01 16:15
HANOI -- Visiting Chinese President Hu Jintao said here Tuesday that China's foreign policy aims to safeguard world peace and promote common development, and urged the international community to work together to realize lasting peace and common prosperity.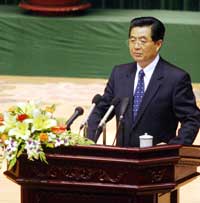 Chinese President Hu Jintao delivers a speech to the deputies of the National Assembly at Ba Dinh Hall in Hanoi November 1, 2005. [Reuters]

In his speech to the Vietnamese National Assembly, Hu said China will unswervingly pursue peaceful development and uphold peace, development and cooperation as the prime purposes of the country's policies.

"China will actively promote the process of multipolarization, globalization and the establishment of a fair political and economic world order," he said.

"All countries, regardless of their size, wealth, or strength, should be treated equal and different civilizations and social systems of the world ought to pursue common development by seeking common points while reserving differences," Hu said.

The president also proposed setting up a new security order of mutual trust, mutual benefit, equality and collaboration.

All conflicts should be solved through dialogue instead of force while hegemony, power politics and any form of terrorism must be opposed, he said.

Hu stressed that China's development shall be peaceful, open and cooperative, saying the country will base its economic development on boosting domestic demand and make this a long-term strategy.

However, China will also adhere to the policy of opening up to the outside world and expand cooperation with all countries, he said.

"China's development will neither obstruct nor threat anyone but will only be conducive to world peace, stability and prosperity," the president said.

The Chinese president, who started a three-day official goodwill visit to Vietnam on Monday, pointed out that peace and development remain the theme of the times even though the world has undergone complex and fundamental changes.

"The process of multipolarizaion and globalization, the growth momentum of the world economy, the progress in science and technology, and the strengthening of international economic cooperation have provided precious opportunities for development," he said.

However, he warned that severe challenges exist and they include regional wars and conflicts, the widening gap between the North and the South, the three forces of terrorism, separatism and extremism, environmental pollution and other problems.

He called on countries in the world to enhance cooperation and join efforts in achieving lasting peace and common prosperity.

On relations with Asian neighbors, Hu said China will enhance friendly ties with them, improve mutual trust via dialogue and seek common prosperity through regional cooperation.