Wronged man receives compensation
By Liu Li (China Daily)
Updated: 2005-10-28 06:13
Local police in Central China's Hubei Province agreed yesterday to pay compensation of 450,000 yuan (US$55,500) to She Xianglin and his family. In 1994 She was forced to confess under torture and wrongly jailed for 11 years.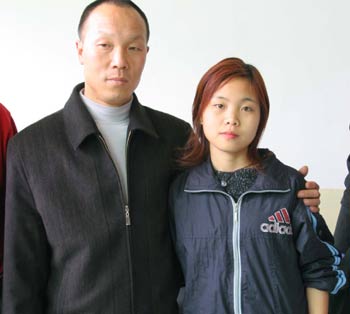 She Xianglin and his daughter [newsphoto/file]
She will receive 226,000 yuan (US$27,900) from local police in Jingshan County to compensate his injuries, both physical and mental, medical fees, and living expenses for his daughter.
She, 39, was convicted of killing his wife Zhang Zaiyu in 1994 and has been locked up since then.
However, it turned out that Zhang was not in fact dead when she reappeared in March this year, thus proving her long-suffering husband's innocence. She Xianglin was subsequently set free in April.
Yang Wuxiang, She's mother, will be compensated with 220,000 yuan (US$27,100) from local police. Yang continuously appealed over her son's unjust treatment.
Yang was arrested in 1996 for "interfering with justice." The 54-year-old was imprisoned for nine months and died three months after her release and her heir will get the compensation.
She Xianglin's elder brother She Suolin will be compensated 4,000 yuan (US$490) for being jailed for 40 days.
Meanwhile, Nie Maiqing and Ni Xinhai, who were jailed for three months and 22 days respectively by local police as they tried to prove that She's "dead wife" was in fact alive, will receive compensation of 22,000 yuan (US$2,700) and 3,000 yuan (US$370).
(China Daily 10/28/2005 page2)