China eases tax burden on poor
By Liu Li (China Daily)
Updated: 2005-10-28 05:41
A revised Personal Income Tax Law was adopted by China's top legislators yesterday, raising the threshold for monthly personal income tax from 800 yuan (US$99) to 1,600 yuan (US$198) a move that will help ease the burden on low-wage earners.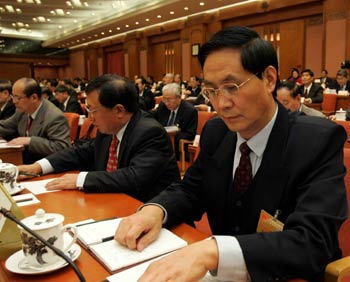 Legislators attend a sessiion of the Standing Committee of the National People's Congress at the Great Hall of the People in Beijing October 27, 2005. [Xinhua]
The amendment will become effective next year.
The Standing Committee of the National People's Congress (NPC) approved the amendment during a five-and-a-half-day session, which closed yesterday.
When it comes into force, only a quarter, or 26 per cent, of wage earners are expected to pay personal income tax, Lou Jiwei, vice-finance minister, told a press conference yesterday.
In 1994, China began levying income tax on citizens earning more than 800 yuan, but only 1 per cent of people were earning more than that. Now, about 60 per cent earn that much.
Government takings from personal income tax will drop by 28 billion yuan (US$3.5 billion) annually with the implementation of the new law, Lou said.
The new threshold was raised from 1,500 yuan (US$185) proposed in a draft law revision after a public hearing last month. The hearing, the first organized by the country's top legislature, invited 20 representatives chosen from nearly 5,000 applicants across the country to listen to their views. The move was widely hailed as a good example of heeding public opinion while making legislation.
Twelve of them were for a threshold higher than 1,500 yuan, according to sources with the NPC's Law Committee.
The increased threshold will not have a bearing on foreigners working in China, who pocket 4,000 yuan (US$495) tax-free each month.
But many foreign businessmen and enterprises have been watching with interest as most of their employees are Chinese.
Also during yesterday's session, the NPC Standing Committee voted to approve the UN Convention against Corruption, which was endorsed by the Chinese Government in 2003.
(China Daily 10/28/2005 page1)