Hurricane Wilma kills at least 7 in Mexico
(AP)
Updated: 2005-10-23 15:54
Hurricane Wilma punished Mexico's Caribbean coastline for a second day Saturday, ripping away storefronts, peeling back roofs and forcing tourists and residents trapped in hotels and shelters to scramble to higher floors. At least seven people were killed.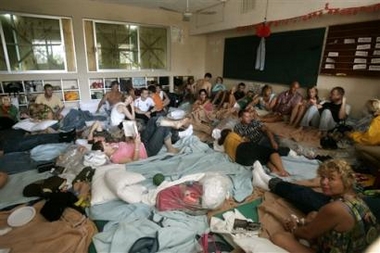 Evacuated tourists crowd a classroom after being forced from their hotels during Hurricane Wilma on Saturday Oct. 22, 2005 in Cancun, Mexico. Hurricane Wilma punished Mexico's Caribbean coastline for a second day Saturday, ripping away storefronts, peeling back roofs and forcing tourists and residents trapped in hotels and shelters to scramble to higher floors. At least three people were killed. [AP]


On the island of Cozumel off the Yucatan peninsula coast, a navy rescue mission sighted three bodies floating down a flooding avenue and a fourth in a town square. Cozumel has been isolated since weathering the brunt of the storm on Friday. Earlier, officials reported three other deaths from the storm.

Waves slammed into seaside pools and sent water surging over the narrow strip of sand housing Cancun's luxury hotels and raucous bars, joining the sea with the alligator-infested lagoon. Downtown, winds tore banks open, leaving automatic teller machines standing in knee-deep water.

Wilma, which had weakened to a Category 2 as it inched northward with sustained winds near 100 mph, was expected to pick up speed Sunday, sideswiping Cuba before it slams into Florida.

Max Mayfield, director of the National Hurricane Center in Miami, predicted the storm would pick up speed and its top winds would increase dramatically on Sunday.

"It's really going to take off like a rocket," he said. "It's going to start moving like 20 mph."

Early Sunday, the storm was slowly moving back over the Caribbean Sea, and rains and winds were easing in Cancun.

A hurricane watch was issued Saturday for the entire southern Florida peninsula, with heavy rain from Wilma's outer bands already causing hip-deep flooding in the Fort Lauderdale. At the same time, a record 22nd tropical storm ¡ª Alpha ¡ª formed in the Atlantic.

As Wilma's eye passed over Cancun on Saturday, the air became calm and eerily electric. Some residents ventured briefly from their hiding spots to survey the flooded, debris-filled streets.

Several dozen people looted at least four convenience stores, carrying out bags of canned tuna, pasta and soda, while others dragged tables, chairs and lamps from a destroyed furniture store. Police were guarding only larger stores, including a downtown Wal-Mart and an appliance store.

An outing during the eye's calm revealed a downtown Cancun littered with glass, tree trunks and cars up to their roofs in water. The only cleanup crew visible consisted of two workers using saws to break up a tangle of tree branches. The front half of a Burger King had collapsed, and at least one gas station had its roof blown away.

State and federal officials said they had little information on damage because Wilma's winds made reconnaissance almost impossible.

Yucatan Gov. Patricio Patron told Formato 21 radio that one person was killed by a falling tree, but he offered no details. And in Playa del Carmen, two people died from injuries they sustained Friday when a gas tank exploded during the storm, Quintana Roo state officials said.

The storm earlier killed 13 people in Jamaica and Haiti.

Quintana Roo State Civil Protection Director Maj. Jose Nemecio said a few emergency crews were able to begin distributing emergency supplies in Playa del Carmen on Saturday. But there were few reports on the overall extent of the damage.

"We really know nothing. There are no telephones, no cell phones," he said. "We have no news from Cancun, Playa del Carmen or Cozumel. I think this is going to be a catastrophic situation."

Added Quintana Roo Gov. Felix Gonzalez Cantu: "Never in the history of Quintana Roo have we had a storm like this."

On Cozumel, fruit and vegetable salesman Jorge Ham, 26, told The Associated Press by phone that winds had dropped significantly. He saw no catastrophic damage during a brief tour of downtown Saturday.

"There are broken windows, downed trees, fallen power lines, but nothing else," he said. "People have taken shelter."

In Playa del Carmen, to the south of Cancun, screaming winds flattened wood-and-tarpaper houses and sent water tanks and plywood sheets flying.

In Cancun, the storm's angry winds ripped roofing off luxury hotels and knocked out windows, filling rooms and shelters with water and forcing some evacuees to seek higher ground. Others slept with plastic sheeting as bedding.

The wind ripped part of the ceiling off a gymnasium-turned-shelter, forcing the evacuation of more than 1,000 people. Stacy Presley, a 22-year-old honeymooner from Milwaukee, was among them.

She and 120 others were moved to a kindergarten where evacuees were forced to use plastic water bottles instead of bathrooms and sleep on miniature desks nearly submerged in rising flood waters. There was also no food.

On Saturday, she and her husband fled when the winds died down.

"There were people getting sick from the urine on the floor," she said. "We had to do something, so we took off. We were running through flooded streets, passing downed power lines."

She ended up at another school sheltering more than 2,000 people. It had mats to sleep on, emergency officials and supplies.

Nearby, Loni Steingraph, 40, of Austin, Texas, praised the shelter, saying: "I booked a four-star hotel, I didn't know it would include a four-star shelter too."

Hotel workers pushed furniture up against windows, but the force of the wind blasted through the improvised barriers.

In the streets, office furniture and broken glass bobbed in water that sloshed between buildings. Residents watched the debris float by from upstairs balconies. Buildings shook in the wind as if earthquakes were hitting them, terrifying tourists and residents waiting out the storm in sweltering, dark shelters.

Benjamin Rodriguez, 49, of Cleveland, spent the night in a classroom with his 11-month-old granddaughter. He and several others had to lean against a door that the wind kept shoving open.

"I feel for the citizens here because we get to go home eventually," said Rodriguez, who came with 32 family members for his son's wedding. "They have to stay and rebuild everything that was destroyed."

President Vicente Fox planned to travel to the affected region on Sunday. In a taped address to the nation, he said that, while the Mexican government was taking care of thousands of stranded tourists, it hadn't forgotten its citizens.

"Make no mistake. Our priority, our job ... is with our own people," he said.

The army and navy was already preparing emergency supplies, including food, water, medicine and roofing, in various southern cities. Fox said it will be sent in as soon as possible.

The U.S. Embassy was sending consular officials to shelters Sunday, an effort to help people prepare for the evacuation of some 30,000 tourists after the storm.

At 1 a.m. Sunday EDT, Wilma was drifting northeast with maximum sustained winds near 100 mph. It was located about 55 miles north of Cancun, Mexico or about 370 miles west-southwest of Key West, Florida.

Even as it battered Mexico, the storm's outer bands whipped the western tip of Cuba, where the government evacuated more than 500,000 people. A tornado spun off from the storm flattened 20 homes and several tobacco-curing huts.

Meanwhile, Tropical Storm Alpha formed Saturday in the Caribbean Sea, setting the record for the most number of storms in an Atlantic hurricane season, forecasters said. Alpha is the season's 22nd tropical storm and marks the first time a letter from the Greek alphabet has been used because the list of storm names is used up. The previous record of 21 storms stood since 1933.

Late Saturday, Alpha had sustained winds of about 50 mph, and was located about 55 miles southwest of Santo Domingo in the Dominican Republic, and moving northwest at about 14 mph, the Hurricane Center said.

Authorities in Haiti and the Dominican Republic warned of deadly flash floods and mudslides from Tropical Storm Alpha. Meteorologist Ignacio Feliz of the Dominican weather service said authorities expected heavy rain but had not yet ordered evacuations.

___

Associated Press writers Israel Leal in Cancun; Vanessa Arrington in Pinar del Rio, Cuba; Lisa J. Adams and Niko Price in Mexico City; and David Royse in Key West, Florida contributed to this report.