Wu in DPRK for party birthday
By Qin Jize (China Daily)
Updated: 2005-10-10 05:59
Visiting Vice-Premier Wu Yi will attend celebrations for the 60th anniversary of the ruling Workers' Party of Korea today, the highlight of her four-day trip to the Democratic People's Republic of Korea (DPRK).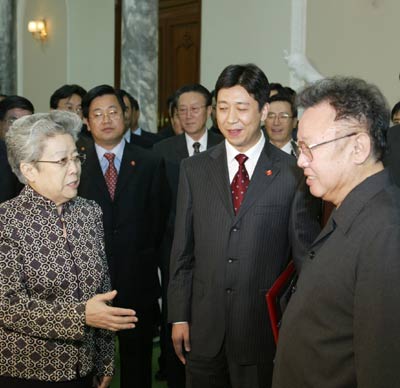 North Korean leader Kim Jong Il (front right), meets with visiting Chinese Vice Premier Wu Yi (front left) in Pyongyang, capital of North Korea, Saturday, Oct. 8, 2005. [Xinhua]
Wu is also set to meet Kim Yong-nam, president of the Presidium of the Supreme People's Assembly of the DPRK, and witness the signing of five bilateral agreements later today.
The vice-premier arrived in Pyongyang for an official goodwill visit on Saturday, along with Minister of Commerce Bo Xilai and other representatives from Communist Party of China (CPC) and other departments, and held talks with top DPRK leader Kim Jong-il the same evening.
During the meeting at the Paekhwawon Guesthouse, Wu conveyed a message from Chinese President Hu Jintao, congratulating the ruling Workers' Party of Korea on its 60th anniversary, which falls today, and hoping the country will make great progress in the future.
Hu said China is willing to work together with the DPRK to push forward their traditional friendship under the new circumstances.
Kim expressed appreciation for the message and the visit, saying the DPRK will never forget the aid provided by China, noting that the completion of a China-funded glass plant was testament to friendly bilateral relations.
Wu also met with DPRK Premier Pak Bong-ju Saturday to discuss the potential for two-way trade, saying China is willing to play a role in exploration of the DPRK's natural resources and construction of the country's infrastructure.
Bilateral trade hit US$1.4 billion last year and registered US$900 million from January to July this year.
According to Chinese Foreign Ministry spokesman Qin Gang, the Six-Party Talks on the Korean Peninsula's nuclear issues would be among the topics discussed during Wu's visit.
Analysts said that progress in the nuclear disarmament talks would be a focus of Wu's visit.
A fresh round of Six-Party Talks are set for November following a joint statement last month.
Wu, the Chinese Government's highest-ranking woman, was described as an iron lady by foreign press as she has often represented the country in difficult negotiations, including trade disputes with foreign countries.
In Beijing, Jia Qinglin, chairman of the National Committee of the Chinese Political Consultative Conference, attended a reception held at the DPRK embassy on Saturday marking the 60th anniversary of the Workers' Party of Korea.
(China Daily 10/10/2005 page2)