South Asia earthquake kills at least 30,000
(Agencies)
Updated: 2005-10-10 05:57
BALAKOT, Pakistan: Villagers dug with bare hands into collapsed schools and homes yesterday in a desperate search for survivors of a huge earthquake that has killed 30,000 in South Asia, with Pakistan calling it the country's worst-ever disaster and appealing for urgent help.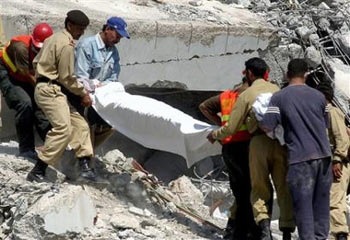 Pakistani rescue workers remove a dead body from rubble of 10-story apartment building that collapsed in the 7.6 magnitude earthquake a day earlier, Sunday, Oct. 9, 2005 in Islamabad, Pakistan. [AP]
The vast majority of the deaths from Saturday's 7.6-magnitude quake were in Pakistan-controlled Kashmir, though several hundred were also reported in India-controlled Kashmir.
"I have been informed by my department that more than 30,000 people have died in Kashmir," said Tariq Mahmmod, the communications minister in Pakistan-controlled Kashmir.
Dozens of villages were flattened in Pakistan-controlled Kashmir, killing farmers, soldiers and schoolchildren, and triggering landslides that blocked rescuers from many devastated areas.
Two survivors were pulled from a destroyed apartment building in Pakistan's capital.