China sends aid to earthquake-hit Pakistan
(Chinadaily.com.cn/AP)
Updated: 2005-10-09 10:51
The Chinese government on Sunday offered an emergency aid worth US$6.2 million to help earthquake victims in Pakistan.
The first batch of disaster relief materials is expected to arrive in Islamabad at 5:00pm local time, according to the Chinese Commerce Ministry.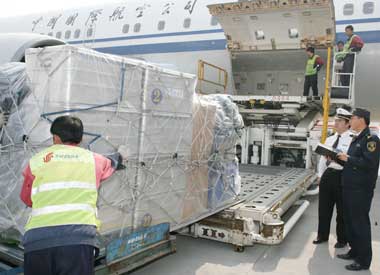 Customs officers check and give clearance to the first batch of relief materials to be sent to earthquake-stricken Pakistan at Beijing Capital International Airport October 9, 2005. The emergency aid materials, weighing 15.3 tons and valued at 5.44 million renminbi yuan, are airlifted to Pakistan by an Air China cargo plane. [newsphoto]

China also sent a 49-member international rescue team Sunday morning to Pakistan. The team, headed by China Seismological Bureau deputy director Zhao Heping, was composed of 49 rescuers, medical staffs and seismological experts.

This was the fourth international rescue team that China had sent abroad since 2003, Xinhua news agency said.

On Saturday, Chinese President Hu Jintao sent a message of condolences to his Pakistani counterpart Pervez Musharraf over the massive earthquake.

Hu, on behalf of the Chinese government and people and in his own name, offered his condolences, through Musharraf, to the victims' families and the injured, and expressed deep grief over those who were killed in the disaster.

Premier Wen Jiabao and Foreign Minister Li Zhaoxing also extended condolences to their Pakistani counterparts Prime Minister Shaukat Aziz and Foreign Minister Khurshid Kasuri over the deadly earthquake.