Oil prices too high to stock strategic reserve
(AFP)
Updated: 2005-09-13 15:07
China is building facilities for its strategic oil reserve but stocking it with global prices at current levels would be too risky, a top planning official says.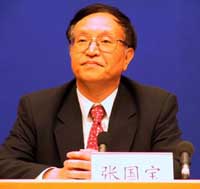 Zhang Guobao, deputy director the State Development and Reform Commission, said China will not use imported oil to fill its strategic reserve at a press conference in Beijing September 13, 2005. [Xinhua]

Zhang Guobao, deputy director of the State Development and Reform Commission, said that even if China moves ahead with plans to stock the reserve it will not be buying oil from the international market.

"I can tell you clearly, we are not going to buy now," Zhang said. The government had planned to start filling the stockpile by the end of this year.

"International prices are at high level, and to purchase oil for the strategic reserve now would be too risky," Zhang told a news briefing.

On Tuesday, New York's main contract, light sweet crude for delivery in October was trading around 63.35 dollars a barrel.

China was moving ahead with plans to create a strategic reserve as its economy expands rapidly and demand for imported oil grows, Zhang said.

"We think that under the present conditions that we need to set up an oil reserve system but there are many different views among economists on how many days of oil reserves is the optimum (level)," Zhang said.

"Some people say 90 days, others say 120 days; I beleive that this must be decided in accordance with the specific needs of each country," Zhang said, adding that the stategic reserve would likely be filled from domestic sources.

He said China produced 175 million tons of crude oil in 2004 and had net imports of 117 million tons, up 34.8 percent as it overtook Japan as world's second largest importer after the United States.





| | |
| --- | --- |
| | |
| US Navy destroyer visits Qingdao | |

| | |
| --- | --- |
| | |
| Buddhist monks attend MBA program in Shanghai | |

| | |
| --- | --- |
| | |
| President Hu visits Mexico | |
Today's Top News
Top China News

Oil prices too high to stock strategic reserve




Fresh nuke talks bid to end nuclear impasse




Hu signs trade pacts with Mexico's Fox




Many IMF directors want gradual yuan moves




Human tests prove AIDS vaccine safe




EU to release blocked Chinese clothes Sep 14