Cowardly men afraid of watching child birth
(Shanghai Daily)
Updated: 2005-09-13 09:19
Shanghai maternity hospitals are telling wimpy husbands they should think twice before deciding to join their wives in the delivery room as many men said they were depressed afterwards, lost interest in sex or had to leave before the child was born because they felt squeamish.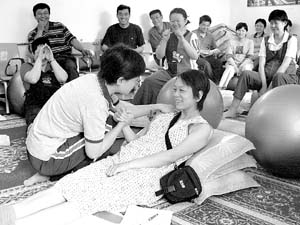 A husband is on a training session to learn how to accompany the wife during her delivery. [baidu]


Hospitals in the city began allowing relatives, especially husbands, to join pregnant women in the delivery room in the late 1990s. They aren't allowed to watch Caesarean births, however, due to worries about infections.

At first, the idea was well received by men who wanted to witness the delivery of their child.

"However, many men said later that they never expected delivery to be so bloody and gross. Some even sought psychological guidance after seeing the 'ugly' procedure," said Duan Tao, vice president of Shanghai No. 1 Maternity and Children's Health Hospital.

"Some also became uncomfortable being intimate with their wives. Watching the birth influenced their feelings about sex."

Doctors at the hospital now explain the delivery process to husbands who want to be in the delivery room.

"If a man feels uneasy, we will prefer the women's mother or sister join the delivery," Duan said.

He said about 60 percent of husbands watched the delivery several years ago, but that number has dropped to about 30 percent recently.

Shanghai International Maternity and Children's Health Hospital said it lets the mother-to-be decide who is in the delivery room.

"In fact, many women don't want their husbands in the delivery room, because it is the most unpleasant moment of their entire life," said Chen Daning, a hospital official. "Most husbands witnessing the delivery are from overseas. Most local men don't want to see the process."

Chen said many husbands have walked out of the delivery room before their child is born because they just can't watch any longer.

Medical experts said Chinese people's thinking about sex and delivery is relatively more conservative than that of Westerners and many young husbands aren't psychologically prepared to watch a delivery.




| | |
| --- | --- |
| | |
| Paris Hilton turns happy homemaker | |

| | |
| --- | --- |
| | |
| Fashion Week in New York | |

| | |
| --- | --- |
| | |
| Miss international beauty pageant | |
Today's Top News
Top Life News

Oil prices too high to stock strategic reserve




US to blame for China trade friction: Amcham




Fresh nuke talks bid to end nuclear impasse




Hu signs trade pacts with Mexico's Fox




Many IMF directors want gradual yuan moves




Human tests prove AIDS vaccine safe