Showbiz opens up to foreign investors
By Wang Shanshan (China Daily)
Updated: 2005-09-09 05:56
NANJING: Audiences in China can watch shows of greater variety, better quality and lower ticket prices now that the green light has been given to overseas companies to invest in the country's show business sector, said an official involved in the drafting of the new regulations.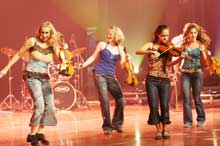 A Canadian music group performs in Nantong, Jiangsu Province in this September 5, 2005 photo. China is set to open its show business to foreign investors. [newsphoto]

"We want a market of fair play," said Wang Jian, a spokesman with the Legislative Affairs Office of the State Council. "But the fact is that good-quality performances, especially foreign ones, have to some extent become privileges of the more wealthy."

The lucrative and rapidly expanding market of entertainment performances is one of the last sectors of the Chinese economy to be opened up to world market. The amended Administrative Regulations of For-Profit Performances, issued by the State Council this July, came into effect on September 1.

"The primary purpose of making the amendment is to give both domestic and foreign companies an easy entry to the market of performances," said Wang, who has been involved in the drafting of both the 1997 regulations and the new amendments.

For the industry to flourish, more enforceable laws and regulations in the sector and less intervention from governmental organs are needed, Wang said.

Foreign investors can set up joint ventures with Chinese agencies or venues of performances, according to the amendment.

Overseas investors can also have a stake of up to 49 per cent in these businesses.

Such joint ventures were strictly forbidden under the 1997 regulations.

To build a joint venture, an application should be filed to the provincial cultural bureau of its location, which will then forward it to the Ministry of Culture.





| | |
| --- | --- |
| | |
| Hu begins Canada visit | |

| | |
| --- | --- |
| | |
| Clinton meets AIDS orphans | |

| | |
| --- | --- |
| | |
| Advertising gimmicks | |
Today's Top News
Top China News

Siberian oil pipeline to go to China first: Putin




China to expand relations with Canada: Hu




ADB: China economy to grow 9.2% this year




Showbiz opens up to foreign investors




Wu : Co-operation crucial for peace




Bush suffers in polls post-Katrina