EU takes steps to unblock China textiles
(AP)
Updated: 2005-08-30 07:29
BRUSSELS, Belgium - The top European Union trade official took steps Monday aimed at releasing the backlog of Chinese textile imports that have been held up by a quota dispute at EU frontiers, AP reported.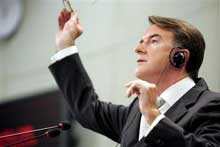 EU Trade Commissioner Peter Mandelson gestures while speaking during a press conference at EU headquarters on Monday, August 29, 2005. Mandelson said Monday he has started moves to unblock Chinese textile imports held up at EU frontiers. [AP]

Millions of dollars worth of sweaters, bras and other garments have been blocked by EU customs officials after Chinese exporters quickly overshot a quota agreement reached in June to protect European textile producers.

European retailers have warned the holdup could lead to stores going bankrupt and shoppers facing empty shelves this autumn and winter.

"I have ... set in motion procedures to unblock the goods," EU Trade Commissioner Peter Mandelson told a news conference on Monday. He declined to give details of his plans to release the goods, pending talks with European governments.

Mandelson acknowledged that talks so far with governments of the 25 EU nations and the Chinese authorities had "so far not produced a mutually satisfactory solution" but added that he hoped European governments would quickly approve his latest proposals.

He said it was unfair to penalize European retailers for "unprecedented circumstances in the global textile market given the dramatic surge in Chinese exports."

In a BBC interview Sunday, Mandelson said if his proposals were backed, the Chinese goods could be freed up for sale in Europe by mid-September.

He played down fears of clothing shortages, saying that Chinese clothing imports would increase even with the quotas agreed in June.





| | |
| --- | --- |
| | |
| Leshan giant buddha | |

| | |
| --- | --- |
| | |
| Explosion near Sanlitun | |

| | |
| --- | --- |
| | |
| Tornado occurs off the waters of Zhejiang | |
Today's Top News
Top China News

President Hu Jintao: Gender equality crucial




Special grants offered to poor students




EU takes steps to unblock China textiles




Farmers sue county for illegal land use




Search for 123 trapped miners suspended




Hurricane Katrina rocks New Orleans