'Joint energy move to benefit India, China'
(AFP)
Updated: 2005-08-26 13:54
Plans by Asian giants India and China to mount joint bids for foreign energy projects are still at a "pioneer" stage and will not end their rivalry for resources, a top Indian government official said, AFP reported.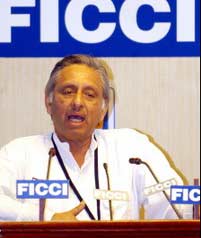 Indian Oil Minister Mani Shankar Aiyer. [AFP]

India, which has been scouring the globe for fuel supplies to feed its fast growing economy, said earlier this week major Indian oil companies would sign cooperation pacts with China's top energy firms later this year.

The head of the Indian oil ministry's international division said plans for collaboration by the neighbours were still at an early phase.

"We are at the pioneer stage. We are taking the first footsteps of cooperation," Talmiz Ahmad told AFP late Thursday.

He added that "cooperation does not exclude competition" for resources by India, which imports nearly 70 percent of its oil needs, and China, which relies on foreign producers for one-third of its oil supplies.

They have been arch rivals for stakes in oil and gas projects around the world. On Monday, India's state-run Oil and Natural Gas Corp (ONGC), narrowly lost to China in a bid for Kazakhstan's third-largest oil producer.

Afterwards, India's Petroleum Minister Mani Shankar Aiyar said the loss underscored the "need for China and India to adopt a collaborative approach in bidding... whenever possible."

"On the basis of assessments (Indian and Chinese) companies will make, we will cooperate and we will compete," Ahmad said. "Hopefully we will cooperate more than we compete."

Memorandums of understanding between companies such as India's ONGC and Indian Oil Corp and Chinese firms Sinopec, China National Petroleum Corp and CNOOC will be signed when Aiyar visits China in November.

Afterwards, "a joint bilateral working group will be set up to monitor progress of cooperation and promote the momentum of cooperation," Ahmad said.

The countries will focus their attention on four main areas -- the Caspian Sea region, Central Asia, Africa and Latin America, Ahmad said.

"In the first instance, our companies will engage (with Chinese companies) in an information-sharing dialogue on specific proposals with a view to coming up with possible joint offers," he said.

India first raised the idea of cooperation in talks with the Chinese after the left-leaning Congress government was elected in 2004.

The petroleum minister asked "whether instead of competing with each other, which we're doing robustly, we could consider cooperation," Ahmad said. "The broad message we got is they're very anxious to cooperate."

Ahmad added a senior Chinese company official told him when he visited China this month as part of an Indian Joint Task Force that "once Indian and Chinese companies join together, there will be no targets beyond them."

Analysts say cooperation would give India and China negotiating muscle but add that political and cultural differences might be difficult to overcome.

Ahmad dismissed suggestions by analysts that Washington, which is looking at India as an economic and political counterweight to China in Asia, might be uneasy over energy cooperation between the neighbours.

"We both share a long common boundary -- both history and geography dictate we will have to work together," he said. Energy cooperation was a "natural" outcome of fast-growing trade and increasing political co-operation.

"This is a world of multiple engagements and multi-polar linkages," he added, saying India was also seeking energy cooperation with the United States.

"Any attempt at (imposing) exclusiveness will fail."




| | |
| --- | --- |
| | |
| China-Russia joint military drill ends | |

| | |
| --- | --- |
| | |
| Leaflets cover floor at a Nanjing medical expo | |

| | |
| --- | --- |
| | |
| Chimpanzee suffers from smoking addiction | |
Today's Top News
Top China News

US scholar: Strong China not a security threat




Taiwan CEO aims to renounce island links




Peace Mission 2005 ends in blaze of glory




No agreement with EU at textile talks




Citibank seeks 19.9% of Shanghai lender




'Joint energy move to benefit India, China'