Citibank seeks 19.9% of Shanghai lender
By Hu Yuanyuan (China Daily)
Updated: 2005-08-26 06:13
Shanghai Pudong Development Bank (SPDB), one of the country's leading joint-stock banks, is considering issuing additional shares valued at US$500 million to Citibank so that the US banking giant can increase its stake to 19.9 per cent, a top manager told China Daily.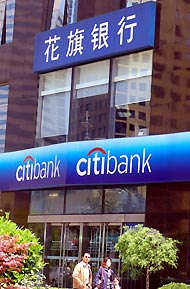 Citibank wants to raise its stake in Shanghai Pudong Development Bank to 19.9 per cent.

"Citibank does plan to increase its stake in SPDB to 19.9 per cent, but we are still waiting for approval from the China Banking Regulatory Commission (CBRC)," Shen Si, the board secretary of SPDB, said in an interview with China Daily.

He said that co-operation with Citibank was smooth; and that the world's largest financial services provider has the option to raise its stake to 19.9 per cent by 2008 according to their strategic agreement in 2002.

"If everything goes smoothly, we will seal a final agreement with Citigroup on its intended stake expansion by the end of the year," Shen added.

Citibank currently has 4.62 per cent in the Shanghai-based lender while its largest shareholder, Shanghai Financial Bureau, has 8.26 per cent.

Due to the fragmented shareholding structure, Citibank is likely to be the largest shareholder after it raises its stake but Shen is not worried about ceding control.

"It does not imply that Citibank will control us as domestic investors have the controlling stake," Shen added.

Nine of the 10 biggest shareholders are local investors or firms controlled directly or indirectly by the Shanghai government; and together, they have 32.44 per cent of the listed lender.





| | |
| --- | --- |
| | |
| Leaflets cover floor at a Nanjing medical expo | |

| | |
| --- | --- |
| | |
| Chimpanzee suffers from smoking addiction | |

| | |
| --- | --- |
| | |
| The tide is high but they're holding on | |
Today's Top News
Top China News

Taiwan CEO aims to renounce island links




Peace Mission' 05 ends in blaze of glory




No agreement with EU at textile talks




Citibank seeks 19.9% of Shanghai lender




Xinjiang cracks down on terrorist threat




Opinion: House pre-sale ban reconsidered