Opinion: House pre-sale ban reconsidered
By Xin Bei (China Daily)
Updated: 2005-08-26 06:02
The Ministry of Construction's blunt denial of any attempt to abolish pre-sale of houses was a slap in the face for the central bank.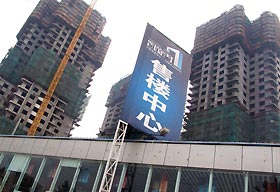 An unfinished apartment building complex is seen in this picture taken in Zhengzhou, August 25, 2005. [newsphoto]

Wednesday's announcement came less than two weeks after the People's Bank of China proposed reforms for the property market. The central bank suggested in its "2004 China Real Estate Financial Report" allowing only finished houses to be sold on the open market.

The Ministry of Construction is risking public criticism by once again choosing to side with developers, which have been blamed for the skyrocketing house prices of recent years.

But by not rushing to endorse the central bank's untested remedy, the ministry may have done consumers a favour.

Although only an unbinding policy recommendation, the central bank's suggestion, buried deep in its first industry-specific financial report, has led to bitter criticism from property developers.

To rein in runaway prices, a government-orchestrated credit squeeze in place since early this year a part of the country's efforts to cool down sizzling economic growth has already forced many developers into a corner. A sudden change in the rules for housing sales that will turn the screws even further is more than most can bear.

Ren Zhiqiang, a domestic real estate tycoon, spoke out in the press about the many technical as well as logical flaws in the central bank's report just a few days ago.

While many were surprised by the businessman's seemingly desperate attempt at self-help, the Ministry of Construction stepped in to the great relief of developers, to the amazement of the central bank and the puzzlement of the public.





| | |
| --- | --- |
| | |
| Leaflets cover floor at a Nanjing medical expo | |

| | |
| --- | --- |
| | |
| Chimpanzee suffers from smoking addiction | |

| | |
| --- | --- |
| | |
| The tide is high but they're holding on | |
Today's Top News
Top China News

Peace Mission' 05 ends in blaze of glory




No agreement with EU at textile talks




Citibank seeks 19.9% of Shanghai lender




Xinjiang cracks down on terrorist threat




Opinion: House pre-sale ban reconsidered




Planner: Grain areas up; fixed assets slow