Peace Mission 2005 ends in blaze of glory
By Sun Shangwu (China Daily)
Updated: 2005-08-26 05:55
WEIFANG, Shandong Province: Defence ministers of China and Russia yesterday declared their first-ever joint military exercises a resounding success.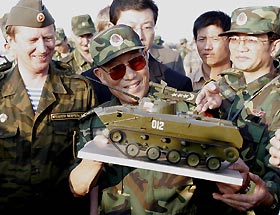 Cao Gangchuan (centre), Chinese defence minister, receives a model tank from the commander of Russian tank forces August 25, 2005. Russian Defence Minister Sergei Ivanov (left) smiles beside him. [newsphoto]

The eight-day manoeuvres wrapped up yesterday with the launching of an 81-minute forced isolation drill at the Weibei firing range in Shandong Province.

At 11:00 am, two strategic missile carrying Tu-95MS jets flew to the drill zone after a four-and-half hour flight from their Russian airbase. An A-50 early warning aircraft then established an airborne command centre directing war planes taking part in the operation.

Four Tu-22M3 long-range bombers, also flying in from their Russian airbase, launched attacks on 'enemy' positions 7 minutes later.

A total of 18 jet fighters in nine batches launched air strikes on "enemy troops," their "central command" and "defences."

The joint artilleries rained hundreds of shells onto the frontline and other targets deep in enemy territory. Bombs carrying propaganda leaflets were also fired onto enemy positions in a psychological tactic to shake the enemy's will.

A total of four Russian Il-76 cargo jets and four similar Chinese cargo jets dropped 24 combat vehicles onto the battlefield.





| | |
| --- | --- |
| | |
| China-Russia joint military drill ends | |

| | |
| --- | --- |
| | |
| Leaflets cover floor at a Nanjing medical expo | |

| | |
| --- | --- |
| | |
| Chimpanzee suffers from smoking addiction | |
Today's Top News
Top China News

Taiwan CEO aims to renounce island links




Peace Mission 2005 ends in blaze of glory




No agreement with EU at textile talks




Citibank seeks 19.9% of Shanghai lender




Xinjiang cracks down on terrorist threat




Opinion: House pre-sale ban reconsidered