EU, China begin talks on textile row
(AFP/Xinhua)
Updated: 2005-08-25 13:33
China and the European Union began talks on textile products blocked at Customs of EU countries Thursday afternoon, the Xinhua News Agency reported.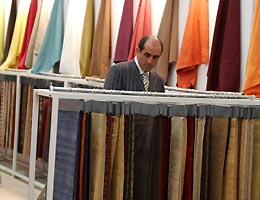 A foreign buyer checks out Chinese textiles at an international apparel exhibition in Shanghai yesterday. China and EU will soon start negotiations in Beijing tomorrow to resolve the ongoing textile crisis. [newsphoto]
The EU is under fierce pressure from fashion importers to review quotas agreed with China in June after six out of 10 textile categories covered by the import restrictions were filled, according to AFP.
Millions of clothing items shipped to Europe in excess of their quotas have been blocked by customs officials -- to the anger of European retailers anxious to fill their shelves ahead of the winter season.
This includes some 48 million sweaters, 17 million pairs of trousers and nearly 500,000 blouses, according to the latest figures cited by the French trade ministry.
In addition to this, 1.6 million T-shirts, 3.4 million bras and 1,470 tonnes of flax yarn are also being kept back because they exceed the quotas.
"We now need a pragmatic solution that deals with the immediate overshoot and with goodwill on all sides, we can do this," EU trade commissioner Peter Mandelson said in a statement issued in Brussels.
His comments were made following a meeting of EU members -- which was not attended by Mandelson -- where there was "a clear and general agreement on the urgency of the situation regarding blocked textile imports from China," the statement said.
The expression of unity comes amid an emerging division between mainly textile producing member states such as France, Italy and Portugal, who originally lobbied for the quotas, and others, such as the Nordic countries, that have growing reservations about the entire deal.
Facing growing pressure from retailers, Brussels has said that it is willing to be more flexible about quotas but Mandelson stressed the June "agreement stands."
"It addresses, with the Chinese, a temporary, short-term need to respond to the extreme public fears and political pressures that built up over the Chinese textiles exports engulfing European markets and displacing goods from other developing countries," he added.
China also appeared eager to see the EU expand the June quotas, to at least allow shipped goods to enter Europe, a move that would bail out EU retailers who have already paid for the imports and save them costly storage and reshipment expenses.
"Cancelling the quotas is what we hope for most and is also the hope of England, Germany, Sweden, Denmark and Finland, but it will make other countries unhappy, so it's not a possible solution," Mei Xinyu, a leading analyst at the Ministry of Commerce told AFP.
One "measure is to use part of next year's quota this year, but it is not enough to solve the problem, so a much better idea is to lift the quota by a very large scale."
EU and Ministry of Commerce officials appeared eager to play the talks down to the media, refusing to immediately name delegation heads or the agenda of what is expected to be working-level talks.
| | |
| --- | --- |
| | |
| Chimpanzee suffers from smoking addiction | |

| | |
| --- | --- |
| | |
| The tide is high but they're holding on | |

| | |
| --- | --- |
| | |
| China, Russia military drills stage landing | |
Today's Top News
Top China News

EU, China begin talks on textile row




Joint forces storm beaches at climax of drills




Taiwan students on mainland given level fees




Japan, China to jointly develop 4G mobile




China says market to decide yuan's value




CCTV sends record invitations for festival