350 bombs rock across Bangladesh, 2 killed
(Agencies)
Updated: 2005-08-18 05:48
DHAKA: Scores of small bomb blasts rattled 63 out of 64 districts across Bangladesh yesterday as a series of carefully timed attacks killed two people, injured at least 125 and sowed panic across the country, police and news reports said.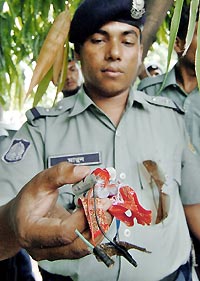 A Bangladeshi policeman shows a small explosive device in Dhaka yesterday. [AFP]

Local television channel NTV said 350 bombs with timing devises exploded simultaneously.

Many unexploded bombs were recovered by security forces.

Eight people were later arrested in connection with the bombings.

Police said the bombs were homemade and apparently designed to cause only limited damage.

A bicycle rickshaw driver, however, died after being injured in a blast in the northern town of Chapainawabganj. A 10-year-old was also killed in the central town of Savar.

At least 125 people were injured in the blasts, the State-run news agency Bangladesh Sangbad Sangstha reported.

The blasts caused panic and massive traffic jams in a number of cities, as people fled for safety and rushed to schools to bring their children home.

There was no immediate claim of responsibility but leaflets from a banned Islamic group, the Jumatul Mujahedin, were found at the scene of a number of explosions, police said. The group wants to establish an Islamic state in Bangladesh, an overwhelmingly Muslim nation governed by secular laws.