Oxford-bound boy genius is 'nothing special' in China
By Peter Goff in Beijing (telegraph.co.uk)
Updated: 2005-08-11 14:34
In Britain he has been hailed as a child genius, a 14-year-old scientist preparing to take up a place at Oxford University next month.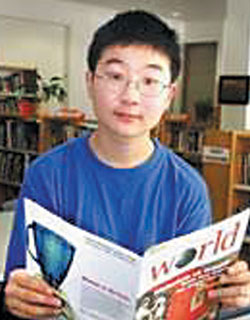 The 14-year-old Chinese prodigy Wang Yinan [sina]

In his native Beijing, however, Wang Yinan is nothing special. According to former teachers of his "Intelligent Supernormal Experimentation Class", the teenager is one of scores of high-achievers who emerge from Chinese secondary schools each year.

Two years ago, when Yinan moved to London with his parents, he could barely speak English. Even so, Copland Community College in Wembley, in north-west London, recognised his talent for maths and science, and put him in the A-level class.

He has been offered a place at Corpus Christi to read material sciences as long as he gets A grades in maths, physics and chemistry - reigniting the debate about whether prodigies should attend university so young.

Certainly, Yinan is not in the habit of under-achieving. On holiday at his grandparents' home in Beijing, he is confident that when his results are sent to him, they will not disappoint. "Yes, I expect to get all A grades," he said matter-of-factly.

Yinan recently scored 98 per cent in an Open University maths degree which he took "for fun". Yet, according to his teachers at Beijing No 8 Middle School, that kind of performance is not unique.

"We turn out dozens of people like that, year after year after year," said Li Yunfang, a teacher at the school in the financial district, about a mile from Tiananmen Square, where Yinan was a pupil for two years. "Scoring 98 per cent is normal. Actually, lots of students only ever get 100 per cent."

About 400 children attend the state-run secondary school, which takes 30 students a year on its accelerated programme. The pupils move through an eight-year curriculum in four years.

Competition is fierce for the scheme, established 20 years ago, with about 2,000 10-year-olds sitting the entrance exam.

Ms Li said that all the 14-year-olds who graduated in June would go to university in the autumn, mostly in China, although every year a handful travelled to the United States and Europe. "In that way, Yinan is not special," she said.

Chinese schoolchildren tend to be more obedient and deferential than Western pupils. The emphasis is still on learning by rote, explaining why pupils excel in science-based subjects and maths rather than the arts.

The social pressure to succeed is enormous. The importance of education is drilled into children from birth and pupils frequently spent up to 14 hours a day studying.

China so far does not have an effective welfare system and children are expected to provide for their parents and other family members as they reach adulthood - a burden that has increased under the one-child policy.

Only three per cent of secondary school pupils can expect to win university places, so exam results have a dramatic impact on the extended family's quality of life.

Although there has been much debate in China about the pressure put on pupils, accelerated programmes such as the one attended by Yinan are defended by teachers.

"Ironically, they get more opportunities to do non-academic things than other children because they learn so quickly," said Ms Li. "They don't have to study the long hours normal kids need to put in."

Yinan told The Sunday Telegraph that his two years at the school were "very, very happy" times.

"I really miss it," he said. He was uprooted when his father, Wang Ting, got a job in Britain with a Chinese aerospace company and said that he had been "very lonely" in London.

One reason that he enjoyed the Beijing school so much was that he was surrounded by people of a similar intelligence level, "so I did not feel abnormal", unlike in Britain where he attracts widespread attention.

In short, Yinan is homesick for China. He says that he likes London, enjoys British culture, tolerates the weather and the food, and holds Oxford in high regard, but would jump at the chance to move back to Beijing.

"Oxford is a great university of course but I would be much more comfortable here, it's what I know," he said. "Beijing is home."

For his parents, Oxford represents a different sort of struggle - a financial one. In Beijing, his school costs about ¡ê20 a year.

Oxford will set them back about ¡ê16,000 and there is no offer of a scholarship. Because Yinan is too young to live alone in college accommodation, he will have to stay in a rented flat with his mother.

"I don't know how we will be able to afford all that, we'll have to borrow I suppose," said his mother, who did not want to be named.

Her priority is to protect her son and give him a "reasonably normal childhood". She insists that she does not push him to succeed, but will not hold him back either.

"Of course there are potential problems when a child advances academically so quickly," she said, "but the alternative is to restrain him. He needs to be constantly challenged and stimulated."




| | |
| --- | --- |
| | |
| Wild orgies leave the Great Wall in mess, and tears | |

| | |
| --- | --- |
| | |
| Tony Leung to appear in Hollywood film | |

| | |
| --- | --- |
| | |
| Carina Lau to be short-lived CEO | |
Today's Top News
Top Life News

Composition of currency basket revealed




First body recovered, mine officials removed




Tax rise may push up oil, gas prices in China




Putin: Exercise evidence of closer ties




4,000 corrupt officials fleed with US$50b




Opinion: China, US need higher-level meetings