Nude art exhibition sparks controversy
By Li Dan (Shenzhen Daily)
Updated: 2005-08-11 09:10
A nude photo exhibition opened Wednesday at Guangzhou Library, drawing queries about the line between art and pornography.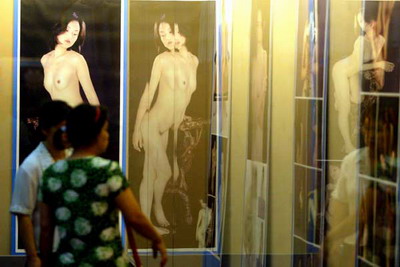 Visitors look at the nude women photoes applying the three-dimensional photographic techniques at Huangzhou photo exhibition. [Guangzhou Daily]


Some 300 big photos, featuring young women nude or barely clothed, will be shown until the end of the month. The exhibitor said the photos adopted a three-dimensional photographic technique with the resolution for each photo reaching 20 million pixels. "It has never before been used on nude photos," said Dong Yijin.

The models presented in the photos were all volunteers chosen from various cities in China, he said.

He also claimed the photos were pure art and the high-resolution technique helped to present the flawless skins and unique beauty of the models.

Some visitors questioned whether cultural authorities approved the exhibition. A cultural bureau official replied there was no law imposing a compulsory examination on human body photo exhibitions.

An art industry management rule published July 1, 2004 by the State lowered the threshold for entering the art market.

Companies no longer need the approval from cultural authorities to exhibit or auction off art works as long as they are legally registered with industrial and commercial departments.

Cultural and police authorities would catch and punish exhibitors involved in spreading pornography with periodical inspections or with the help of whistleblowers, the official said.

Another official regretted there was no clear definition of pornography to distinguish it from the freedom of art.

The only provision concerning this issue is a temporary regulation drawn 17 years ago on pornographic publications.






| | |
| --- | --- |
| | |
| Wild orgies leave the Great Wall in mess, and tears | |

| | |
| --- | --- |
| | |
| Tony Leung to appear in Hollywood film | |

| | |
| --- | --- |
| | |
| Carina Lau to be short-lived CEO | |
Today's Top News
Top Life News

Composition of currency basket revealed




First body recovered, mine officials removed




Tax rise may push up oil, gas prices in China




Putin: Exercise evidence of closer ties




Opinion: China, US need higher-level meetings




Help sought for abandoned panda cub