Chinese museums become global bridges
By Kevin Holden (China Daily)
Updated: 2005-08-11 06:22
The ever-stronger forces of globalization and the bullet-paced march of a market society across China are fundamentally changing museums and the art they display.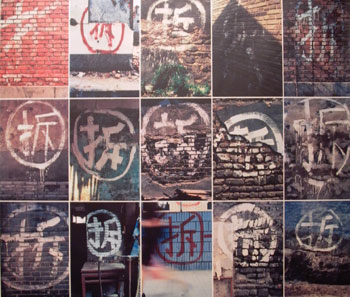 "Chai," which means "demolish," has become a symble for some artists capturing China's rapid-fire changes. [China Daily]


"Chinese museums, like Chinese society, are very quickly becoming more open and free," said Gao Minglu, a widely-respected expert on Chinese art and museums.

Gao, a professor at the University of Pittsburgh, United States, said, "The driving forces behind the metamorphosis of museums throughout China are the market, international institutions and globalization."

Gao and other experts say that the rush of the world's top museums to get a foothold in the planet's fastest growing economy is bolstering the growing competition among museums in China to match Chinese exhibitions with imported shows.

Curators say the complementary trends are making the outlook of Chinese museums more professional and global.

For example, Aurelie Arff, a leading coordinator for the Year of France in China, said that since France started staging a rapid-fire series of major shows at the National Art Museum of China in Beijing last October, "every exhibition has gone off perfectly."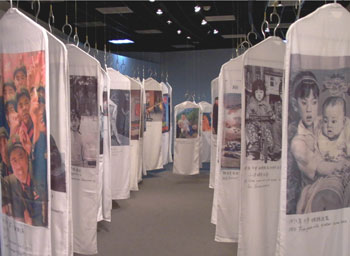 Artist Yu Hong mixes painted snapshots of her childhood and youth with panoramas of Chinese society as it changes around her. [China Daily]


That museum is currently hosting four simultaneous exhibits on photography, engraved prints, oil paintings and fashion sent here by leading French art centres.

Arff praises the cosmopolitan head of the National Art Museum, painter Feng Yuan, for his professional skills and global outlook. "Each side has learned a lot from the joint 'French-Chinese' exhibitions," she said.

She adds that "these exhibitions have been attracting record numbers of visitors to the National Art Museum" and other major art centres in Shanghai and Hong Kong.

The National Art Museum's Feng Yuan says the jointly designed art shows are "helping the museum evolve into a world art centre."

Professor Gao calls the period starting from the turn of the century, "The Art Museum Age."

During this period when Chinese museums compete to stage high-profile international shows, they have become more open to contemporary Chinese art, he said.

"Today almost all the important art museums and galleries in Shanghai, Guangzhou, Shenzhen, Chengdu and Beijing compete to organize international biennial exhibitions," Gao said.

He said that when China's Ministry of Culture co-sponsored the first Beijing Biennial two years ago, it invited "many influential Western artists as well as some avant-garde artists whose works were displayed along with a number of 'conservative' Chinese artists."

He says that trend is likely to gain ground next month, with the opening of the second Beijing Biennial.

The new century's Art Museum Age "is characterized by the emergence of official exhibitions of contemporary art and the establishment of local art museums and organizations throughout the country," Gao said.

'The Wall'

The emergence of museums run by market-minded corporations, like the Millennium Art Museum in western Beijing, is spreading the spirit of competition and openness.

Gao said the Millennium Art Museum's current show, entitled "The Wall," is a good example of how new museums are opening more creative space for experimental artists to show their works.

According to Wang Yudong, the Millennium Museum's vice director, the exhibition covers oil paintings, installations and videos by 50 contemporary Chinese artists, with some being featured for the first time in a major Chinese museum.

The show includes works by Yu Hong, who is considered as one of the best oil painters in China today

Yu's works resemble painted snapshots from her childhood and youth, juxtaposed with panoramas of the Chinese society as it undergoes constant changes around her.

In contrast, performance artist Zheng Lianjie transforms the Great Wall into a stone canvas for his artwork.

And Wang Jingsong presents a repetitive series of photos of the Chinese character "chai," or "demolish."

"Chai," which has been painted and circled in white on countless walls around Beijing and every other Chinese city, is the dominant symbol of the destruction of the old to make way for the new as the country re-sculpts itself at hyper-speed.

Chaos Chen, a former curator of the Millennium Art Museum who organized a symposium around "The Wall" exhibition, said that Wang Jingsong and some other artists believe that the demolition of centuries-old walls and sites "is breaking the fabric of the city and removing its memory."

Chen said that while city planners and construction corporations race to build a post-modern China, some citizens are torn by nostalgia for the ancient city."

She said artworks in "The Wall," and the fact that they are being presented by the high-tech Millennium Art Museum for a multi-national mix of visitors, reflects "two competing visions of a utopia one that is based on the past and one on the future."

Gao, guest curator for "The Wall," said that with the breakneck-paced blurring of borders between museums and artists in the East and the West, "Experimental Art in China has been thoroughly internationalized."

"Globalization threatens to turn Chinese artists into residents of a global village, in which they speak their most intimate secrets in a standardized, international language," he said.

The Millennium Museum's Wang Yudong said that when "The Wall" exhibition closes in Beijing, it is set to travel to Europe and the United States.

(China Daily 08/11/2005 page14)




| | |
| --- | --- |
| | |
| Tony Leung to appear in Hollywood film | |

| | |
| --- | --- |
| | |
| Carina Lau to be short-lived CEO | |

| | |
| --- | --- |
| | |
| Oscar winner Theron to wed | |
Today's Top News
Top Life News

Composition of currency basket revealed




First body recovered, mine officials removed




Tax rise may push up oil, gas prices in China




Putin: Exercise evidence of closer ties




Opinion: China, US need higher-level meetings




Help sought for abandoned panda cub