Avant-garde Chinese artist defends fetus-bird artwork
(AP)
Updated: 2005-08-10 13:13
A Chinese artist who grafted the head of a human fetus onto the body of a bird has defended his work as art after a Swiss museum withdrew the piece from an exhibit.
"It's precisely because I respect all life that I did this," artist Xiao Yu said Tuesday. He said the bird and fetus "died because there was something wrong with them. ... I thought putting them together like this was a way for them to have another life."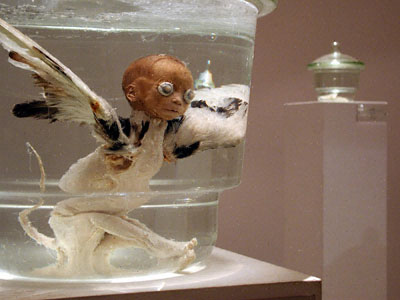 The controversial artwork named "Ruan," featuring a fetus head grafted onto the body of a bird, was created by Chinese avant-garde artist Xiao Yu. [foto.lucien.it]


Swiss museum visitor Adrien de Riedmatten, 29, filed a complaint on Monday with the district attorney of Bern, Switzerland, calling for an investigation into the piece, which was on display at the Bern Art Museum.

"I want to know where this baby comes from and if it was killed for this work," de Riedmatten said. "We know about the problems of late-term abortions in China and we have the right to ask ourselves questions."

The work was removed, curator Bernhard Fibicher said Tuesday, because museum directors didn't want the controversy surrounding it to overshadow the rest of the "Mahjong" exhibit, which features avant-garde Chinese works from the last 25 years.

The museum is planning an Aug. 22 symposium with artists, philosophers and ethics experts before deciding whether to re-exhibit the piece.

Xiao said he bought the head in 1999 for a few dollars from a man who was cleaning out a scientific exhibition hall. The glass bottle in which it came had a handwritten sticker identifying it as a female specimen from the 1960s. According to Xiao, it had no name or cause of death.

He said he thought it was a miscarriage and not an aborted fetus, because it predated China's "one child" birth control policy -- launched in the late 1970s to limit most urban couples to one child in order to slow the growth of its population, which officially hit 1.3 billion this year. Rural couples and some in cities are allowed two children.

The name of the piece, "Ruan," is a word Xiao invented that combines the Chinese characters for different kinds of animals. Xiao said he added the eyes of a rabbit to the head.

Xiao is known for shocking material. He once paid an assistant $1,200 to sew pairs of living lab mice together at the hip and displayed them in glass bowls.





| | |
| --- | --- |
| | |
| Wild orgies leave the Great Wall in mess, and tears | |

| | |
| --- | --- |
| | |
| Tony Leung to appear in Hollywood film | |

| | |
| --- | --- |
| | |
| Carina Lau to be short-lived CEO | |
Today's Top News
Top Life News

Composition of currency basket revealed




First body recovered, mine officials removed




Tax rise may push up oil, gas prices in China




Putin: Exercise evidence of closer ties




Opinion: China, US need higher-level meetings




Help sought for abandoned panda cub