Former UN procurement officer pleads guilty to taking bribes
(AP)
Updated: 2005-08-09 13:46
A former United Nations procurement officer pleaded guilty to soliciting a bribe under the Iraq oil-for-food program, making him the first U.N. official to face criminal charges in connection with the scandal-tainted operation, AP reported.
Alexander Yakovlev, a Russian, also pleaded guilty Monday in federal court to charges of wire fraud and money laundering for accepting hundreds of thousands of dollars in bribes from U.N. contractors in his work outside oil-for-food. He could face up to 20 years in prison for each of the three counts against him.
Yakovlev surrendered to FBI agents in Manhattan earlier Monday, as U.N.-backed investigators released a report accusing him and Benon Sevan, the former chief of the $64 billion (euro51.74 billion) program, of corruption. Sevan was accused of taking some $147,000 (euro118,835) in kickbacks.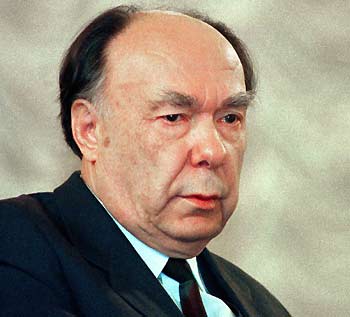 Former Soviet communist party politburo member Alexander Yakovlev is seen in Moscow in this April 15, 1994 file photo. The veteran U.N. procurement official pleaded guilty on August 8, 2005 to conspiracy, wire fraud and money laundering charges after investigators found evidence he took nearly $1 million in illegal payments from the winners of U.N. contracts worth $79 million. [Reuters]

The probe, led by former U.S. Federal Reserve Chairman Paul Volcker, had recommended that both men's diplomatic immunity be lifted if asked.

Later Monday, U.N. Secretary-General Kofi Annan waived Yakovlev's immunity when he got just such a request from David Kelley, the U.S. Attorney for the Southern District of New York.

There was no suggestion that the timing of the report and Yakovlev's guilty plea were coordinated. Volcker said Monday that Kelley had not cooperated with his probe.

Yakovlev's decision and the Independent Inquiry Committee's findings, put forward in its third report so far, give new ammunition to critics who have labeled oil-for-food a boondoggle at best and huge swindle at worst.

"Our conclusions are obviously significant and troubling," Volcker said. "What's important is that we contribute effectively to the needed reform of the United Nations administration."

Condemnation from Republicans in the U.S. Congress was swift.

"This report demonstrates the United Nations lacks the institutional red lights and alarms necessary to warn of misconduct," Representative Christopher Shays of Connecticut said in a statement.

Yakovlev, 52, resigned in June over separate allegations that he helped his son get a job with a company that did business with the United Nations.

He was released later Monday on a $400,000 (euro323,363) bond, and no new court date was immediately set, said Megan Gaffney, a spokeswoman for Kelley.

"In term of sentencing we expect a much better deal if we enter a guilty plea," Yakovlev's lawyer Arkady Bukh told The Associated Press.

Volcker's team said it would release a final report _ expected to be up to 700 pages long _ in September. Among other things, that report is expected to consider new evidence suggesting Annan knew more about an contract awarded to a Swiss company that employed his son, Kojo. Both have denied any wrongdoing.

The oil-for-food program, launched in December 1996 to help ordinary Iraqis cope with U.N. sanctions imposed after Saddam Hussein's 1990 invasion of Kuwait, was one of the largest humanitarian programs in history. It was a lifeline for 90 percent of the country's population of 26 million.

Under the program, Saddam's regime could sell oil, provided the proceeds went to buy humanitarian goods or pay war reparations. Saddam allegedly sought to curry favor by giving former government officials, journalists and others vouchers for Iraqi oil that could then be resold at a profit.

The program has become the subject of several U.S. congressional investigations, as well as probes by a federal grand jury and the Securities and Exchange Commission.

Mark Malloch Brown, Annan's chief of staff, again defended the United Nations' handling of oil-for-food, saying it was the organization's very willingness to open the books that had attracted so much attention.

"Those who have kind of stayed in the shadows, who have not had a Volcker to investigate their own politicians and diplomats and companies involved in this program, have gotten away a little more lightly," Malloch Brown said. "There's a certain sort of injustice in that."

He said the United Nations had given Kelley's office the results of its internal investigation about Yakovlev last month after finding "prima facie evidence of criminal wrongdoing." It was not imediately clear if that was the genesis for Kelley's investigation or if his probe was already underway.

Volcker's latest report said that Sevan, who oversaw the program from its inception in 1996 to its conclusion in 2003, took the $147,000 (euro118,835) in kickbacks, apparently because of his "precarious" financial situation at the time.

Volcker's team said Sevan helped steer contracts to a small oil trading company with the help of Fred Nadler, an African Middle East Petroleum Co. Ltd Inc. director and the brother-in-law of former U.N. Secretary-General Boutros Boutros-Ghali, and Fakhry Abdelnour, the president of AMEP.

Sevan, a Cypriot citizen, is also under investigation by the Manhattan District Attorney's office. He denies the allegations and accuses Volcker's team of succumbing to pressure from U.N. critics and of scapegoating him.

"The charges are false, and you, who have known me for all these years, should know that they are false," Sevan said in a letter to Annan on Sunday.

As for Yakovlev, the Volcker investigators found that he secretly tried to bribe a company called Societe Generale de Surveillance S.A., which was seeking an oil inspection contract under oil-for-food.

But they also came across more explosive evidence of wrongdoing outside oil-for-food. Investigators said Yakovlev took at least $950,000 (euro767,987) in kickbacks from companies that had won some $79 million (euro63.8 million) in separate U.N. contracts.

Kelley's office appeared to have been working along the same lines after getting evidence about Yakovlev from the U.N. itself. Both the report and the counts against Yakovlev mention Moxyco, a company that Yakovlev apparently set up as a conduit for the illegal payments.

And while Kelley doesn't mention Societe Generale de Surveillance, he said Yakovlev faxed a foreign company "information related to that company's bid for an inspection contract under the United Nations Oil-for-Food Program."




| | |
| --- | --- |
| | |
| Japanese PM launches general election campaign | |

| | |
| --- | --- |
| | |
| Katrina slams US Gulf Coast, oil rigs adrift | |

| | |
| --- | --- |
| | |
| Japan's 6 parties square off in TV debate | |
Today's Top News
Top World News

President Hu Jintao: Gender equality crucial




Special grants offered to poor students




EU takes steps to unblock China textiles




Farmers sue county for illegal land use




Search for 123 trapped miners suspended




Hurricane Katrina rocks New Orleans