Japan PM to call election after postal defeat
(Reuters)
Updated: 2005-08-08 13:33
Japanese Prime Minister Junichiro Koizumi will call an election for September 11, his coalition partner said on Monday after parliament's upper house rejected bills to privatise the postal system -- the core of Koizumi's reforms.
The prime minister's bitterly divided Liberal Democratic Party, which has governed for most of the past half century, is also in danger of losing at the polls for the powerful lower house, politicians and analysts say, reported Reuters.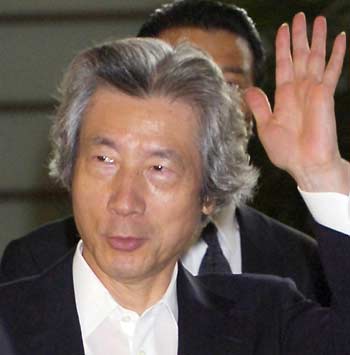 Japanese Prime Minister Junichiro Koizumi waves as he arrives at his official residence in Tokyo August 8, 2005. [Reuters]

Takenori Kanzaki, leader of junior ruling coalition party, the New Komeito, told reporters after a meeting with Koizumi that the election would be held on September 11, infuriating party rebels who had insisted that Koizumi should resign instead.

"There is no justification. It's like suicide bombing," said LDP lower house lawmaker Housei Norota, who had opposed the bills to privatise Japan Post, a sprawling giant that has some $3 trillion in assets and includes the world's biggest deposit-taking institution.

The defeat of the legislation raised concerns in financial markets that the reforms Koizumi pledged to implement when he swept into power in 2001 would be stalled.

"It's a very sad day for the reform story of Japan, because with this vote, it's essentially over and the effects of this will be felt in the years to come," said Kirby Daley, a strategist at Societe Generale Securities' Fimat division.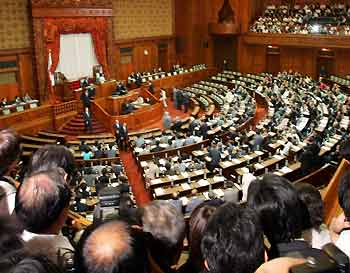 Japanese lawmakers cast their ballots in a key vote on bills to privatise the postal system as local media crowd around the assembly hall at the Upper House of Parliament in Tokyo August 8, 2005. Prime Minister Junichiro Koizumi suffered a big defeat on the vote, and will call a snap election for parliament's powerful lower house, public broadcaster NHK said. [Reuters]

Others were less pessimistic.

"Koizumi tried to achieve reform within the LDP framework. He said that was possible. But he couldn't do that, so that means reform is only possible if there is a change in government," said Yasunori Sone, a political science professor at Keio University.

The bills were rejected in the upper house by a vote of 125 to 108. Media said more than 20 LDP members had voted against the legislation.

The spectre of political confusion in the world's second-biggest economy also made financial markets nervous.

The yen and Japanese share prices fell when the results of the vote were known. The Japanese currency quickly recovered most of its losses, however, and the Nikkei share average was later trading in positive territory well above the day's lows.

SCENARIOS FOR CHAOS

The bills would have split Japan Post into four units under a state-owned holding company in 2007. Insurance and savings businesses were to have been sold off by 2017.

Koizumi, who leapt to power promising reform and is now Japan's longest-serving prime minister in two decades, had said privatisation was vital to make investment flows more efficient and remove distortions from the financial system.

The insurance business alone is as big as Japan's four biggest life insurers combined.

But many in the LDP feared privatisation would weaken their political machines, which have long relied on powerful rural postmasters to get out the vote and on the postal system's assets to fund popular but wasteful public works.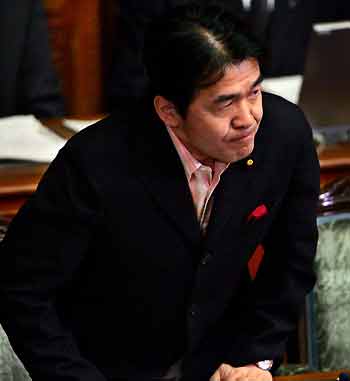 Japanese Economics Minister Heizo Takenaka, also minister in charge of postal privatisation, bows after the Upper House of Parliament rejected a bill to privatise the postal system August 8, 2005 in Tokyo. The rejection is a big loss for the nation and its economy, Takenaka said. [Reuters]

Japan Post has nearly 25,000 offices and 260,000 employees.

Scenarios for political confusion following the defeat abound, including the mirror image of a 1993 drama in which pro-reform rebels bolted the LDP and the party lost an election and was ousted, albeit briefly.

This time, though, the rebels are anti-reform.

Analysts say the centrist main opposition Democratic Party has a shot at winning an election, but it would need help from other parties to get legislation through the upper house.

"With the split of the LDP, the Democrats stand to gain. But the need a big victory," Sone said. "They need to win a majority. That's more difficult, but this is a huge chance."

LDP anti-reformers have threatened to form a new party, although they might cooperate with the LDP. Coalition partner New Komeito has hinted it might switch sides if the Democrats become the top party but lacked a majority.




| | |
| --- | --- |
| | |
| Japanese PM launches general election campaign | |

| | |
| --- | --- |
| | |
| Katrina slams US Gulf Coast, oil rigs adrift | |

| | |
| --- | --- |
| | |
| Japan's 6 parties square off in TV debate | |
Today's Top News
Top World News

President Hu Jintao: Gender equality crucial




Special grants offered to poor students




EU takes steps to unblock China textiles




Farmers sue county for illegal land use




Search for 123 trapped miners suspended




Hurricane Katrina rocks New Orleans