Tojo's granddaughter: Japan war PM no criminal
(Reuters)
Updated: 2005-07-28 14:00
On the day Japan surrendered in World War Two, the family of wartime Prime Minister Hideki Tojo packed into a small truck in the stifling summer heat and fled their home, afraid the victorious Allies would take their lives, repots Reuters.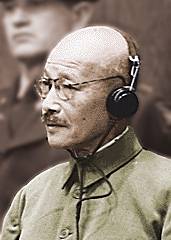 Japanese wartime Prime Minister Hideki Tojo stands trail for his crimes during World War Two at the the International Military Tribunal for the Far East (IMTFE) in 1948. [baidu]

"August 15, 1945, was the day that everyone else became free," recalled Tojo's granddaughter, Yuko, six at the time. "But that was the day our post-war life of fleeing and hiding began."

Tojo, who became a symbol of wartime militarism for many both in and outside Japan, was hanged for war crimes in 1948.

He is also one of 14 Class A war criminals honoured at Tokyo's Yasukuni Shrine, making visits there by Prime Minister Junichiro Koizumi controversial and a source of friction with China and South Korea.

Tojo was convicted on counts of waging wars of aggression against the Allies and China and of authorising inhumane treatment of prisoners of war and others forced his family into decades of reclusion so profound that letters were mailed to them under a different name.

Yuko decided to break that silence a decade ago to argue for a new view of her grandfather and history.

"My grandfather was certainly responsible for the nation," she said, surrounded by pictures of her grandfather in her modest Tokyo home. "But having responsibility and doing bad things are different. He was not a criminal.

"Post-war history was tampered with by the Allies," she added. "Japan's culture and the Japanese spirit, right down to the bottom of (our) hearts, were all dyed with this version of history. And it's been that way for the past 60 years."

Yoko's campaign to repair her grandfather's image coincides with a growing debate about who was to blame for Tokyo's wartime aggression, and a shift to the right among Japanese politicians.

"It reverberates in the larger debate," said Brad Glosserman, director of research at Pacific Forum CSIS, a Honolulu-based think-tank. "The political debate in Japan has shifted and the centre of gravity has moved to the right."

Now 66, Yuko has only vague memories of her grandfather, prime minister from 1941 to 1944, whose bespectacled face became a symbol of Japanese evil among Japanese enemies during the war.

"He was very kind and sympathetic, especially towards people in a weaker position in life, like servants or children."

She still cherishes several mementos, including the stub of Tojo's last cigarette and a photo taken when he became prime minister, where she is seen leaning against his knee.





| | |
| --- | --- |
| | |
| Steven Chow's 'voice' for sale online | |

| | |
| --- | --- |
| | |
| Jodie Foster sweet on 'Sugar Kings' | |

| | |
| --- | --- |
| | |
| Andy Lau makes love story | |
Today's Top News
Top Life News

NASA stops shuttle flights until hazard fixed




Central bank said cooling yuan down




Skies open wide for pilots from abroad




Little progress for 2nd day of nuke talks




China starts training women astronauts




Veterinarians play down disease threat