Five detained in mine blast that killed 83
(Xinhua)
Updated: 2005-07-24 21:30
Five people, who were accused of being accountable for the coal mine gas blast that claimed 83 lives in Xinjiang Uygur Autonomous Region, were captured, local government official said Sunday.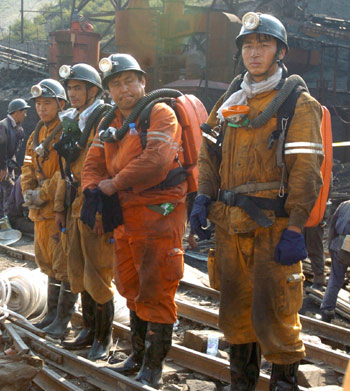 Chinese rescuers are ready to enter a coal mine pit in the city of Fukang, Northwest China's Xinjiang Autonomous Region July 11, 2005.[Xinhua]


The five people include Jiang Jinpeng, former board chairman of the Shenlong Coal Mine Limited Company which runs the colliery, Liu Junbo, head of the coal mine, Ren Yanlu, director of the mine's production and technology section, Su Jindu, the mine's deputy head in charge of work safety, and Zhou Fuping, the mine dispatcher who was on duty at the time of the blast on July 11, said Chi Wenhui, deputy secretary of the government of Jichang Hui Autonomous Prefecture, where the mine is located.

Chi said some ventilators in the mine stopped working, leaving the gas accumulated in the shafts to reach the density of explosion and wire sparkles induced the blast.

In addition, overproduction, absence of a work safety license and ill-management were owed to the tragedy, said Chi.

The colliery turned out some 180,000 tons of coal in the first half of this year, far exceeding its annual capacity of 30,000 tons and leading to an extremely high gas density in the colliery shaft.

Actually, the gas density had reached up to three percent, well above the safety mark of one percent, three or four hours before the blast occurred, said Chi.

The blast could have been avoided, provided the mine management had taken effective measures to withdraw miners and cut electricity underground right after detecting the high gas density, he said.

The gas explosion took place around 2:30 a.m. on July 11 in Shenlong Coal Mine of Fukang County, 62 km away from Urumqi, the regional capital, when 87 people were working in the shaft. Only four of them survived.

Further investigation launched by a work team of the State Administration for Work Safety is still underway.




| | |
| --- | --- |
| | |
| China scraps yuan peg to US dollar | |

| | |
| --- | --- |
| | |
| Taiyuan explosion kills one, injures 33 | |

| | |
| --- | --- |
| | |
| Typhoon Haitang floods coastal areas | |
Today's Top News
Top China News

Central banker: Yuan move won't alter US trade gap




British kill Brazilian in bomb probe blunder




Soong pledges to promote cross-Strait peace




China protests new US textile restrictions




Mysterious disease kills 9 in China southwest




Five detained in mine blast that killed 83