Jude Law apologizes for affair
(Agencies)
Updated: 2005-07-20 11:39
Hollywood heartthrob Jude Law expressed Monday "sincere regret" over an affair with his children's nanny, and he publicly apologized to his fiancée, Sienna Miller.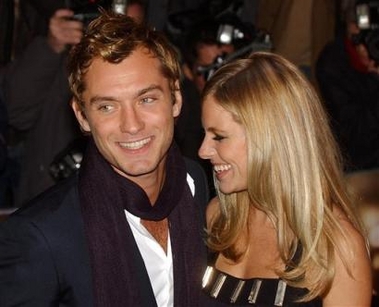 Actor Jude Law with his actress-fiancee, Sienna Miller, arrives at a film premiere in London's Leicester Square, on Oct.14, 2004. Law, in a statement Monday, July 18, 2005, to the British Press Association, publicly apologized to Miller, expressing his 'sincere regret' over an affair with one of his children's nanny. [AP]


The Oscar-nominated Brit, 32, who has three children with ex-wife Sadie Frost, proposed to Miller, 24, in December. He issued a statement Monday after reports of an affair with Daisy Wright, 26, were published in London's Sunday Mirror and The Sun.

"Following the reports in today's papers, I just want to say I am deeply ashamed and upset that I've hurt Sienna and the people most close to us," Law told the British Press Association.

"I want to publicly apologize to Sienna and our respective families for the pain that I have caused. There is no defense for my actions, which I sincerely regret."

Law and Frost were divorced in October 2003 and cited "unreasonable behavior" on Law's part.

The actor met Miller that year while they were filming 2004's Alfie. A representative for Miller said the actress would have no comment; a representative for the West End theater, where Miller is performing, told a British news site that the actress was expected at Monday night's show.

Wright told the British tabloids that Law, who was voted People magazine's "Sexiest Man Alive" in 2004, was filming All the King's Men in New Orleans early this year when they met. Wright had been hired by Frost to care for one of the children. Wright says the affair lasted for a month, before Frost found out and fired the nanny.