Bush: Sino-US relations 'vibrant, complex'
(Agencies)
Updated: 2005-07-20 10:05
WASHINGTON - US President Bush on Tuesday described the U.S. relationship with China as vibrant but complex as he underscored concerns about its currency, which Washington wants revalued.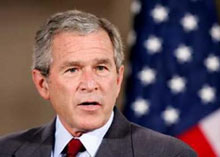 U.S. President George W. Bush answers a question as he and Australian Prime Minister John Howard speak with reporters in the East Room of the White House July 19, 2005. He described the Sino-US relationship as vibrant but complex. [Reuters]

The president's comments came amid an intensifying debate in the U.S. Congress about China's influence as state-run CNOOC vies to purchase U.S. oil producer Unocal .

Many lawmakers say such a deal could pose a threat to U.S. national security concerns and are pushing for a review by the Bush administration.

"We have some difficulties on the trade front with China, and one such difficulty is their currency," Bush said at a joint news conference with Australian Prime Minister John Howard.

"And we've worked with China to convince them that it makes sense for them to change how they value their currency," Bush added.

He cited differences with China over intellectual property rights as another hurdle.

Financial markets are abuzz with speculation China may be nearing an announcement on some revaluation of its currency in response to complaints from the United States and elsewhere that the yuan is so undervalued that it constitutes an unfair trade advantage.

The yuan has been pegged at about 8.28 to the U.S. dollar for the past decade.

Bush has declined to take a stand on the CNOOC issue, saying he will await a review process by the Committee on Foreign Investment in the United States (CFIUS), a multi-agency panel chaired by the U.S. Treasury. He did not raise the subject of CNOOC in the news conference.

Characterizing the overall relationship with China, Bush said, it is "very important and very vibrant. It's a good relationship, but it's a complex relationship."

Bush cited China's role in the six-party talks with North Korea on nuclear disarmament as an example of cooperation, but chided the country on human rights.

"Every time I've met with the Chinese leaders I've, in a respectful way, shared with them the importance I feel for a healthy society to recognize that people think differently and worship differently and, therefore, ought to be encouraged to do so," Bush said.

Bush did not mention one of the long-term sources of tension, the status of Taiwan.

For his part, Howard expressed optimism that that issue could be resolved.

"I know that the leadership of both countries understands the importance of common sense in relation to Taiwan, a recognition that there are differences of philosophy between the two societies," he said. He added he did not believe a "dust-up" was inevitable.




| | |
| --- | --- |
| | |
| American women call for end of war | |

| | |
| --- | --- |
| | |
| Israeli forces storm Gaza settlement | |

| | |
| --- | --- |
| | |
| South Korean, DPRK separated families hold video reunions | |
Today's Top News
Top World News

Guangzhou oil supply 'returning to normal'




First joint drill with Russia launched




Scotland bank in US$3.1b deal for BOC stake




China-US textile talks make progress




Opinion: Corruption has to stay capital crime




'Bird flu may cause global economic mayhem'