Singer philanthropist moves CCTV hosts
(Shenzhen Daily)
Updated: 2005-07-20 08:59
Very seldom has a person received as much coverage as Shenzhener Cong Fei. He has been interviewed for such CCTV programs as "Focus," "Face to Face" and "Arts Celebrities" over a very short period of time.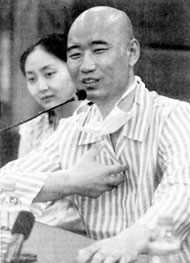 Cong Fei answers questions from reporters as his wife looks on at a Shenzhen hospital where Cong is receiving the treatment. [baidu]

Cong, an ordinary Shenzhen singer, supported more than 100 needy children, but has gastric cancer and could not afford to pay for his own medical expenses before donations poured in.

Cong has lived a simple life. His apartment is only 58 square meters, whereas he has donated as much as 3 million yuan (US$360,000) to poor and disabled students in 10 years.

He is suffering from advanced gastric cancer but is still paying tuitions and living expenses for poor children.

CCTV hosts Zhu Jun and Wang Zhi said they did not believe Cong's stories before they met him. "I've seen philanthropic people, but have never seen a person like him," said Wang Zhi, the host of CCTV's "Face to Face."

Cong's quick popularity came from a fact that he has practiced philanthropy and altruism beyond what he could afford, according to CCTV "Tonight's Guest" host, Lu Xiaobo.

When SARS hit China in 2003, performances had to be canceled and Cong had no income. He borrowed 170,000 yuan from friends and relatives to pay for the children's tuition fees.

Zhu said Cong felt he had an unshakable responsibility to help the needy children in West China.

Both Zhu and Wang said they could not help crying when they interviewed Cong. Wang said he was supposed to interview a person rather than express his sympathy as a journalist.

"But I didn't know why the tears just came out of eyes," he said, adding that his first tears came out when Cong told him he had to beg for a loan by kneeling down before someone.

Wang called Cong's story a fairy tale in ethical realm. "How could there be such a person? How could he have done all those things? You've seen selfless people, but never one of his kind. You've seen brave people, but never one of his kind," Wang said.






| | |
| --- | --- |
| | |
| Jude Law apologizes for affair | |

| | |
| --- | --- |
| | |
| Sandra Bullock reportedly weds Mechanic | |

| | |
| --- | --- |
| | |
| Miss Intercontinental contest in Hefei | |
Today's Top News
Top Life News

Typhoon hits coastal areas, one million evacuated




Pentagon: China's military strengthening




China to keep yuan basically stable this year




Bush: Sino-US relations 'important, complex'




Haier, partners drop bid to buy Maytag




Registered jobless rate unchanged at 4.2%