Pentagon: China's military strengthening
(Agencies)
Updated: 2005-07-20 08:48
WASHINGTON - China is steadily strengthening and modernizing its military, with an aim to deterring Taiwan from declaring independence, the Pentagon said Tuesday in a new report on Chinese military power and strategy.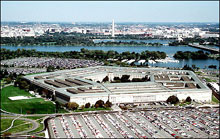 This undated file photo released by the US Department of Defense shows an aerial view of The Pentagon in Washington, DC. [AFP]

The report even claims that over the longer term, an increasingly modern Chinese military could pose a threat to U.S. and other forces in the Asia-Pacific region.

"Some of China's military planners are surveying the strategic landscape beyond Taiwan," the report said.

Among a number of such developments, it noted improvements in Chinese intercontinental-range missiles "capable of striking targets across the globe, including the United States." Air and naval force improvements also appear to be geared for operations beyond the geography around Taiwan, it added.

Fueled by a booming economy and foreign arms purchases, China's military is developing new capabilities in line with Beijing's strategy of deterring Taiwan from declaring independence and countering a potential U.S. military intervention, according to the 45-page report, an annual assessment required by Congress.

The short-term focus of China's military is preparing for potential conflict in the Taiwan Strait, the report said. Beijing has made it clear that it would have to use non-peaceful means if the island declares formal independence or resists Beijing's insistence on negotiating a reunification. The United States, which is Taiwan's main arms supplier, has cautioned both sides not to force a change in the status quo.

Kurt Campbell, who was a senior Asia specialist at the Pentagon during the Clinton administration, said in an interview that the report is "slightly more alarmist" than previous Pentagon assessments of China's military. He noted that the report focuses on a number of new Chinese capabilities, including a naval buildup.

Defense Secretary Donald H. Rumsfeld said Tuesday prior to the release of the report that it illustrates why a European arms embargo against the Chinese should be kept in place.





| | |
| --- | --- |
| | |
| Typhoon Haitang hits Wenzhou | |

| | |
| --- | --- |
| | |
| Japan's unjust ruling on germ warfare | |

| | |
| --- | --- |
| | |
| Typhoon Haitang affects Hangzhou | |
Today's Top News
Top China News

Typhoon hits coastal areas, one million evacuated




Pentagon: China's military strengthening




Registered jobless rate unchanged at 4.2%




Japan court rejects germ war compensation




Bush: Sino-US relations 'important, complex'




China automakers gear up to go overseas