Latest Harry Potter adventure goes on sale
(Agencies)
Updated: 2005-07-16 16:10
All of those happy Harry Potter fans, books at last in hand, may well be in for a good cry. "Harry Potter and the Half-Blood Prince," the sixth of J.K. Rowling's phenomenal, record-breaking series, is also her darkest, most grown-up work — haunted by death, complicated by love and heartbreaking to critics. "Break out the tissues," warns Associated Press reviewer Deepti Hajela.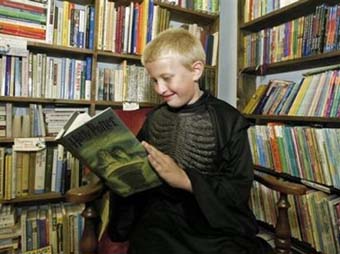 Nick Bledsoe,10, can't wait to start reading his copy of the sixth Harry Potter installment 'Harry Potter and the Half-Blood Prince' by author J.K. Rowling shortly after midnight, when the book was released for sale, Saturday, July 16, 2005 at the Book House in St. Louis.[AP]
But the age of Potter VI dawned at midnight Saturday with millions of smiles and a bit of a wink from Rowling. In Edinburgh, Scotland, the author emerged from behind a secret panel inside the city's medieval castle, settled into a leather easy chair and read an excerpt from the sixth chapter to a super-select group of 70 children from around the world.
"You get a lot of answers in this book," Rowling, a resident of Edinburgh, said as she arrived at the castle before thousands of adoring fans. "I can't wait for everyone to read it."
At the Barnes & Noble in New York's Union Square, 20-year-old Rachel Grandy was first in line, arriving early on a sticky summer morning and getting her book at midnight, some 16 hours later. "I can't believe that I have the first copy," said Grandy, a student at Hunter College. "It's totally boggling my mind right now."
In London, events were muted by the July 7 subway and bus bombings, which killed some 50 people. Book and magazine chain WH Smith scrapped a planned midnight launch at King's Cross Station, from whose fictional Platform 9 3/4 Harry catches the train to Hogwarts at the start of each term. The deadliest of the day's four attacks was on a subway near King's Cross.
"We're very much of the message that it's business as usual — London's open for business and we want to celebrate this book," said John Webb, children's buyer at Waterstone's, which said 300,000 people attended midnight openings at more than 100 stores across Britain.
At the Wangfujing Bookstore in downtown Beijing, about 40 people lined up in the early morning to buy "Half-Blood Prince." Rowling's books are so popular in China that an unknown Chinese author once produced an entire fake adventure, "Harry Potter and Leopard-Walk-Up-To-Dragon."
It was a kooky midnight countdown in Union Square, as a person in a white owl suit emerged from behind green curtains with a box and slowly walked over to a cash register. The owl handed the box to workers behind the counter and the first book was removed. Jim Dale, the beloved, multivoiced narrator of the audio books, began reading.
In Dallas, about 200 hearty Harry fans waited in the dark, mingling in an unlit parking lot, after storms knocked out power at a Barnes & Noble store. White horses posing as unicorns paraded down the main street of Wilmington, Ohio, where Books 'N' More quickly sold hundreds of Potters.
Since Rowling first introduced Harry and his fellow students at Hogwarts School of Witchcraft and Wizardry to the world in 1997, the books have become a global phenomenon, selling 270 million copies in 62 languages and inspiring a series of movies. Rowling is now the richest woman in Britain, with a fortune estimated by Forbes magazine at $1 billion.
With only brief interruptions, "Half-Blood Prince" has topped the charts of Amazon.com and Barnes & Noble.com since last December, when Rowling announced that she had completed it. Pre-orders worldwide already are in the millions and other Potter products are selling strongly, including the audio book, a "deluxe" edition of "Half-Blood Prince" and a box set of the previous five books.
Publication has sparked a price war in England, with many chains selling the book for about half the $29.95 cover price. In the United States, the online retailer Alibris.com is offering $5, plus postage, for used copies. Scholastic Inc., Rowling's U.S. publisher, has also joined the competition, offering a 20 percent discount on its Web site.
"I am always disappointed when publishers sell books directly to the consumer, bypassing their retail partners," said Mitchell Kaplan, president of the American Booksellers Association. "Selling it at a discount makes it more frustrating."
Scholastic is releasing more than 10 million copies. Waterstone's predicts 2 million copies will be sold in Britain, where Bloomsbury publishes the book, and 10 million worldwide in the first 24 hours.
The new work has been preceded by months of publicity, hype, plot leaks and legal action.
Canadian publisher Raincoast sought a court injunction after a Vancouver store accidentally sold 14 copies last week. A judge ordered customers not to discuss the book, copy it, sell it or read it before its release.
Canadian sales could be helped by an unexpected market: U.S. readers, thanks to a plea from Greenpeace. On its Web site, the environmental group notes that Raincoast uses 100 percent recycled paper and criticizes Scholastic for not doing the same.
"We have some magic up our sleeves too," reads a message posted on the site, "a link to the Canadian publisher of `Harry Potter and the Half Blood Prince,' who can send you a tree-friendly version of this popular book."

| | |
| --- | --- |
| | |
| Tibetan girls | |

| | |
| --- | --- |
| | |
| Brad Pitt diagnosed with viral meningitis | |

| | |
| --- | --- |
| | |
| Diaz to testify in photos case | |
Today's Top News
Top Life News

Taiwan's opposition KMT votes to elect new chief




"Provocative" Japanese drilling condemned




Sino-EU ties should not be hurt by disputes




Central bank denies revaluation in August




China: no need for economic tightening




Support falls for bin Laden among Muslims