Japan, US, South Korea meet for nuclear talks on North Korea
(Agencies)
Updated: 2005-07-14 17:17
Top nuclear negotiators from South Korea, the United States and Japan have opened discussions in Seoul to lay the groundwork for the resumption talks later this month with North Korea over its nuclear weapons programs.
After more than a year of stalemate with Pyongyang, North Korea on Saturday agreed to re-open the six-way negotiations -- an announcement that came with key new aid initiatives from South Korea.
Both Japan and the United States have expressed some hesitation about Seoul's massive offer to stream electricity into the North if it gives up its nuclear ambitions.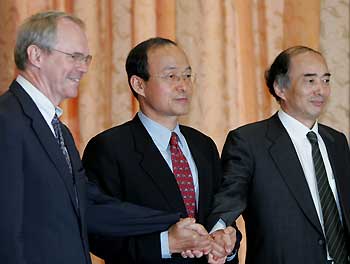 Assistant U.S. Secretary of State Christopher Hill, South Korean Deputy Foreign Minister Song Min-soon and Japanese Foreign Ministry Director General Kenichiro Sasae (L-R) pose before talks in Seoul July 14, 2005. Negotiators from South Korea, Japan and the United States met on Thursday to hammer out a strategy for coaxing North Korea into ending its nuclear arms programmes at six-country talks late this month. [Reuters]

US Secretary of State Condoleezza Rice said Washington wanted to ensure that the focus remained on the North's disarmament, while Japan said that Pyongyang had gone back on its promises before.

Seoul's foreign ministry officials said the three-way meeting would review the agenda before the full six-way talks -- which also include China and Russia -- resume in Beijing later this month.

Late Wednesday, North Korean leader Kim Jong-Il told Chinese presidential envoy Tang Jiaxuan in Pyongyang that he was looking forward to "positive progress" in the negotiations.

"North Korea looks forward to the next round of talks taking place as scheduled and to obtain positive progress," China Central Television quoted Kim as saying.

"The realisation of the Korean peninsula's de-nuclearisation is the target of North Korea," he was quoted saying. "I hope the mechanism of the six-party talks will be an important platform for (its) realisation."

Kim's remarks came a day after South Korea said it would be able to route some 2,000 megawatts of electricity to North Korea. Seoul also offered 500,000 tonnes of rice and a re-opening of railway links cut more than 50 years ago.

The energy aid would almost double the North's electric power production, which stood at 2,200 megawatts in 2003, according to Seoul's unification ministry research arm the Korea Institute of National Unification.

"We expect our energy aid offer, on condition of the North Korean dismantlement of nuclear facilities, to bring about a significant turnaroud," South Korean Foreign Minister Ban Kim-Moon told CBS radio.

"We will discuss with the US and other allies how to package it," he said.

The last round of six-nation talks was held in Beijing in June 2004 and the process has been stalled ever since, with Pyongyang accusing Washington of a "hostile policy" aimed at regime change in North Korea.

Under a 1994 US-North Korea accord, an international consortium had been building the two nuclear power reactors.

One-third of the project had been completed when it came to a halt after Pyongyang allegedly told US officials in October 2002 that it was running a uranium enrichment program.

Following hectic diplomatic efforts, the six-way talks started in Beijing in August 2003 to address the international community's concerns.

Pyongyang broke off the talks in June 2004, rejecting the US offer then on the table, which required an up-front pledge to dismantle all nuclear programs before getting energy and other assistance.

The North instead wanted a step-by-step approach to weaning itself off its nuclear program, fearing it could come under attack by the United States. The CIA believes Pyongyang has at least one or two crude nuclear bombs.

Thursday's meeting brought together South Korean Deputy Foreign Minister Song Min-Soon, US Assistant Secretary of State Christopher Hill and Kenichiro Sasae, director general of Japan's foreign ministry's Asia-Oceania affairs bureau.




| | |
| --- | --- |
| | |
| Space shuttle Discovery launch delayed | |

| | |
| --- | --- |
| | |
| Blair plans measures to uproot extremism | |

| | |
| --- | --- |
| | |
| Pakistan train crash carnage kills 128 | |
Today's Top News
Top World News

Taiwan's KMT Party to elect new leader Saturday




Japan approves oil drilling, China protests




'No trouble brewing,' beer industry insists




Critics see security threat in Unocal bid




Former bank chief tried on corruption charges




Workplace death toll set to soar in China