Taiwan's KMT Party to elect leader Saturday
(Agencies)
Updated: 2005-07-14 14:57
Taiwan's largest opposition Party, the Kuomintang (KMT) or the Nationlists, is expected to elect a new leader on Saturday, three months after reconciling with China's Communist Party (CPC).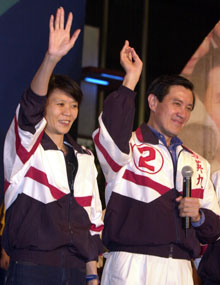 Ma Ying-jeou (right) and his wife wave to supporters after winning the Taipei mayor election in this December 7, 2002 file photo. He and Wang Jin-pyng are running the leadership of the KMT in Taiwan. [newsphoto]

The two leading candidates both favor closer ties with China¡¯s mainland, and have vowed to follow the trail led by incumbent chairman Lien Chan, who ended decades of hostility with a historic trip to Beijing in April.

Opinion polls show Taipei Mayor Ma Ying-jeou, born in Hong Kong, leading parliament speaker Wang Jin-pyng in the unprecedented, two-way race for the 110-year-old party that was founded by Chinese revolutionary Dr. Sun Yat-sen.

But local-born Wang could still swing the outcome if he can mobilize traditional grassroots support, Reuters reported.

The KMT, who once ruled all of China, fled to Taiwan after losing the Chinese civil war in 1945-49 and enjoyed uninterrupted rule of the island until 2000 when they lost to the pro-independence Democratic Progressive Party (DPP).

KMT leaders are traditionally the party's standard bearers for island elections. Incumbent chairman Lien Chan ran for office in 2000 and 2004, losing both times to Chen Shui-bian of the DPP. He has since decided to stand down.

The KMT only introduced direct chairmanship elections after losing its grip on the Taiwan ¡°presidency¡± in 2000. Saturday will be the first time rank-and-file members have faced a choice.

On the all-important issue of how Taipei should deal with China¡¯s mainland, Ma and Wang have both ruled out independence and pledged to follow the footsteps of Lien, who shook hands with President Hu Jintao on his visit to Beijing in April.





| | |
| --- | --- |
| | |
| Special police detachment established in Xi'an | |

| | |
| --- | --- |
| | |
| Panda cubs doing well in Wolong | |

| | |
| --- | --- |
| | |
| Suspect arrested in Taiwan | |
Today's Top News
Top China News

China to launch manned spacecraft in October




PLA on course to cut 200,000 personnel




EU, China pledge to strive for partnership




China's forex reserves increase to US$711bn




Taiwan's KMT Party to elect leader Saturday




Japan approves oil drilling, China protests